How to adjust Canon M50 portrait settings
The Canon EOS M50 is an affordable, mid-range, mirrorless camera. It has a 24.0MP sensor which is capable of delivering some tremendous image quality with every shot.
While Canon EOS M50 is often been quoted as a 'budget camera', it can still help you in getting those magical portrait shots with some stunning features.
With this camera, you will be able to print your portrait shots with finer detailing. Because of its compact size, it is easy to carry everywhere.
It has excellent image quality, stable metering, and an auto-white balance.
Still, if you are a bit puzzled regarding "how to shoot portrait photo with Canon M50", follow the given tips and guidelines to get a better understanding of the same process.
How to shoot portrait photography using Canon M50
Step 1. Exposure compensation and exposure bracketing
Exposure compensation: Sometimes, while taking good portrait shots with your camera, you see that the photo is either overexposed or underexposed in terms of quality.
You can improve the auto exposure and get a little creative with the light exposure to your photos. You can change the exposure level by a grade of plus or minus 3 EV.
Auto Exposure Bracketing: This setting can be used in combination with the exposure compensation setting.
While taking portrait shots, helps you to capture images at different exposure levels. After that, you can select the optimal image with a +/- 5 EV scale resulting in a brighter image.
Step 2. ISO speed settings for portraits
You can set the ISO speed to Automatic or determine an appropriate value for yourself. ISO 100 gives you optimal quality for this sensor, but for portrait photography, you'll need a higher ISO for faster shutter speed.
Beginners can leave it in auto mode as it would be a bit confusing for them to learn about the whole mechanism in the first instance.
ISO Auto: The Auto mode ranges from 400 to 25600. When you raise the ISO value, you raise the sensitivity of the sensor.
This can make your photo appear noisy and grainy. Photographers suggest going with a 6400 or 3200 value for portraits.
Step 3. Metering modes
You can select different metering modes for your portrait photography. There is a sensor inside the camera, called the metering sensor that takes care of this whole operation.
It measures the incoming light through the lens and decides how much is needed to produce a well-lit photo. The different modes are evaluative, partial, spot, and center-weighted average.
You can go creative and adjust the metering timer along with the metering mode.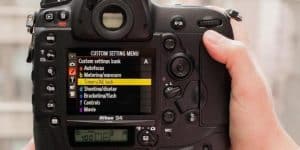 Step 4. White Balance Setting
Generally, the Auto White Balance does fine but you can change this to Auto White Balance with white priority (AWB-P). This is a portrait photographer's favorite setting as it is perfect for indoor lights, Daylight, Cloud cover, White fluorescent, Flash, etc.
You can have a custom white balance and adjust the Color Temperature to get the desired shot with the Canon M50.
Talking about the custom white balance, it can help you to illuminate your photos under the same lighting conditions.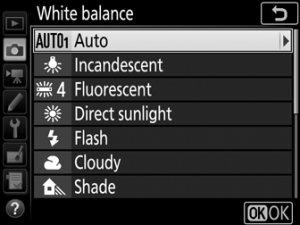 Step 5. Stabilizing with Optical image stabilization
This setting helps to click sharper pictures even at slower shutter speeds. There is no negative side to this setting and you can rest assured of getting the most wonderful portraits in return.
There is also an electronic image stabilization system to click portraits for professional models. Some photographers find it extremely beneficial.
This camera with a flip screen is certainly a great option both for beginners and advanced photographers.