Best 32GB Ram for Desktop
Before you cave and spend money on a new desktop because your current one is lagging, check the memory.
If your PC is experiencing issues keeping up with intensive tasks such as video editing and HD games, it could mean you need to upgrade the RAM.
Whether you use your desktop for content creation, gaming, or the usual daily workloads having enough RAM is as important as having a powerful processor or a graphics card.
So if you're PC is experiencing performance lags, you might just need to increase what you already have or change the RAM entirely.
These days, 8GB is the minimum RAM a PC should have, but it's better to be safe and invest in 32GB RAM if you have more demanding tasks.
No need to spend a boatload of money on an entirely new desktop when you can solve the problem for a fraction of the price. Bring your current desktop back to life with some of the 32GB RAM sticks reviewed in this article.
Some of The Best 32GB Ram for Desktop Include:
1. Corsair Dominator Platinum RGB
Corsair has once again set the pace with the Dominator Platinum RGB.
The unrivaled performance and patented DHX cooling technology have made the Platinum RGB a formidable flagship for Corsair over the years.
This RAM stick has 10 separate Capellix RGB LEDs, brighter than ever and more efficient than previous versions. The Dominator Platinum RGB also works with Corsair's ICUE software making it one of the best gaming RAM sticks in the market today.
Key Features include:
Ram Technology: DDR4
RAM Speed: 3200Mhz
CAS Latency: 16
Voltage: 1.35V
DIMMS: 4 x 8GB
XMP Ready: Yes
2. G. Skill Trident Z Neo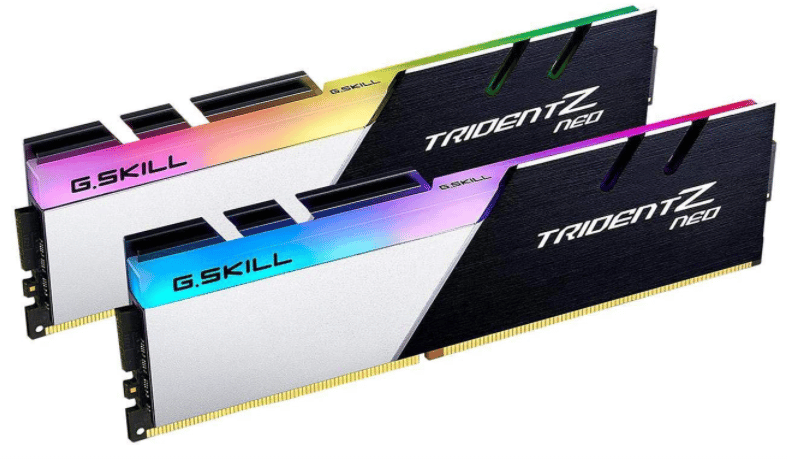 Like the 1st edition Trident RGB series, the G. Skill Trident Z Neo also has excellent RGB lighting executed very tastefully. More notably. The Trident Z Neo is optimized for AMD Ryzen GPUs making this RAM stick one of the best picks for AMD Ryzen equipped desktops.
The Trident Neo Z is available in several configurations and speeds, just like other RAM sticks in the Trident RGB series.
The speeds range from 2,600 MHz up to 4,000 MHz. Each module is equipped with five separate RGB LEDs that can light up any desktop build magnificently.
Key Features include:
Ram Technology: DDR4
RAM Speed: 3600Mhz
CAS Latency: 18
Voltage: 1.35V
DIMMS: 2 x 16GB
XMP Ready: Yes
3. Kingston HyperX Fury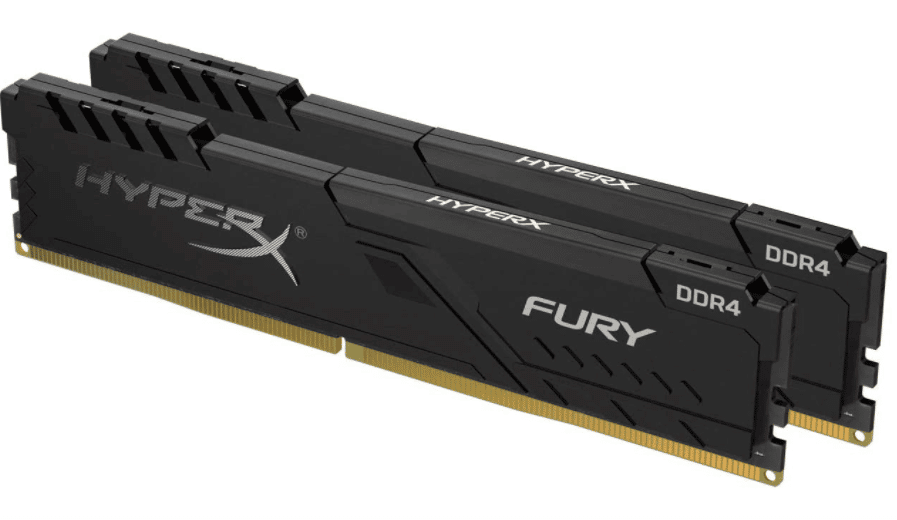 The HyperX Fury is an automatically overclocked RAM that's not very expensive.
This smart DDR4 RAM automatically detects other components in your PC, thereby reaching the highest speeds possible. It's built to optimize performance on all of Intel's latest processors.
The HyperX Fury is equipped with latencies between 14 and 19, and it has speeds of up to 3200 MHz. Although it's somewhat cheap, it will still have a significant impact on your desktop.
Key Features include:
Ram Technology: DDR4
RAM Speed: 3200Mhz
CAS Latency: 19
Voltage: 1.2V
DIMMS: 2 x 16GB
XMP Ready: Yes
4. Crucial Ballistix
This gaming memory stick by Crucial Ballistix is designed for high-speed overclocking, and it's ideal for heavy gamers as well as other people looking to push the performance of their PCs.
This Memory stick has received several awards and featured in multiple Esport championships, so you can be sure that this is one of the benchmarks of RAM performance.
In addition, it is optimized for the latest Intel and AMD processors.
Key Features include:
Ram Technology: DDR4
RAM Speed: 3200Mhz
CAS Latency: 16
Voltage: 1.35V
DIMMS: 2 x 16GB
XMP Ready: Yes
5. Silicon Power Zenith PowerX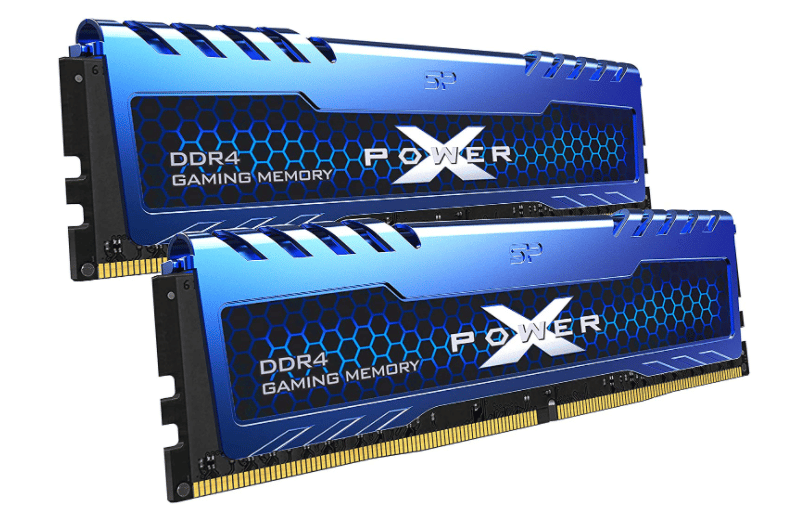 If you want a RAM stick with a low profile and one that doesn't consume too much power, then the Power Zenith PowerX by Silicon is an ideal pick.
This device features an aluminum build and a design that minimizes heat during overclocking.
Considering its performance, the low profile is more suited to compact PCs. It's a favorite for people who like overclocking their desktops. This RAM comes with a lifetime warranty and 24/7 technical support if need be.
Key Features include:
Ram Technology: DDR4
RAM Speed: 3200Mhz
CAS Latency: 18
Voltage: 1.4V
DIMMS: 2 x 16GB
XMP Ready: Yes
6. Corsair Vengeance RGB Pro
Corsair is among the top manufacturers of RAM cards, and they have done it again with their Vengeance RGB Pro.
With ten ultra-bright RGB LEDs, the RAM lights up your CPU system in different colors. The RAM is compatible with both- Intel and AMD motherboards and needs no cables for the installment process.
The RAM comes with a custom performance PCB which offers high signal quality.
It further has integrated circuits with a precision design that improves the overclocking potential of RAM. The aluminum heat spreader in the RAM improves the cooling when its used to its potential.
Key Features include:
DIMMS: 4 x 8GB
XMP Ready: Yes
7. TEAMGROUP T-Force Delta RGB
The TEAMGROUP T-Force Delta RAM is another power-packed, RGB lighting RAM used for enhanced performance. The 120-degree wide design with built-in RGB lighting effect comes with software synchronization.
T-Force Delta comes with an aluminum alloy heat spreader that helps in cooling the RAM quicker.
It is also equipped with one-click overclocking technology and comes with a lifetime warranty. The low voltage leads to energy saving and reduces the temperature and heat generated during extensive working.
Key Features include:
DIMMS: 2 x 16GB
XMP Ready: Yes
8. Corsair Vengeance LPX
Corsair has released a variety of series for high-performance RAMs and Vengeance LPX is one of them.
The LPX is compatible with the latest Intel and AMD motherboards and is available in a variety of kits to fit in any modern build. Measuring at 34mm, LPX can fit even in the smallest custom builds.
Vengeance LPX comes with solid aluminum heat spreaders that are present at equal intervals to dissipate heat.
This allows each module to cool faster so that they run at their largest clock speed. A person can also choose from two different colors.
Key Features include:
9. PNY XLR8 Gaming
On upgrading your PC with PNY XLR8 RAM, the user gets the liberty to run several applications at a faster rate. This type of RAM is perfect for an avid gamer or PC enthusiast with extreme usage.
XLR8 comes with the most advanced heat spreader that comes with a 3D geometric design that improves cooling.
The RAM comes with customizable LEDs which support Asus Aura Sync, Gigabyte RGB Fusion, etc, for changing the lighting effects. XLR8 has a latency rate of 16 and operates at an overclocked speed of 3200 Mhz.
Key Features include:
10. Silicon Power Gaming Series
The gaming series RAM by Silicon Power is among the top-tier companies producing RAMs.
Even though it is available for Intel processors only, the RAM allows users to open many tabs while working with ease. Its aluminum heat sink and low power consumption make it a fast and efficient RAM.
With speeds of up to 3200 Mhz, the gaming series RAM comes with lifetime warranty and complete service.
Available in several colors, this RAM is anupgrade in a budget for your PC. The RAM offers various kit options to choose from allowing the user to overclock their PC.
Key Features include:
Final Thoughts on the Best 32GB Ram for Desktop
Upgrading your desktop's RAM to 32GB is not so tricky nowadays, thanks to a drop in price.
This RAM capacity will provide a substantial buffer, especially if you're editing very heavy content, running memory-intensive apps, or playing high refresh rate games on your desktop.
With the liberty of setting up their desktop, a user can customize their desktop however they want to.
From the highest graphic card to upgrading the RAM to 32GB and higher, a user can explore several horizons. Increasing the RAM capacity would make the desktop capable of carrying out heavy tasks with ease.
RAM size of 32GB or higher will allow the user to carry out heavy content editing as well as play high refresh rate games.
How much RAM does a programmer need?