How to Pair Sony Headphones to iPhone? – Overview
How to Pair Sony Headphones to iPhone? – A great pair of headphones can enhance your listening experience with iPhone; nothing works better than Sony Headphones.
Sony Headphones are the best when it comes to the quality of sound, and no other headphones can match their quality. These headphones can make your travel journey memorable, so you should not forget to take them along.
Two types of Sony headphones are available in the market; Wired and Wireless.
Sony's wired headphones are easy to connect as one needs to plug them into the device they want to use. However, wireless headphones come with Bluetooth technology.
In this post, we will talk about how to pair Sony's Wireless headphones to iPhone.
How to Pair Sony Headphones to iPhone? – The Setup Process
If you have just bought a pair of Sony Headphones and are wondering how to connect them to your iPhone. Just follow the given steps and enjoy listening to your favorite music on your headphones. The steps listed below are for an iPhone using 15.5.
1. Turn on your Sony Headphones by pressing the power button, which will automatically turn on the headphones' Bluetooth. Make sure the headphones are in your iPhone's range.
2. Tap on the Settings icon on your iPhone's home screen.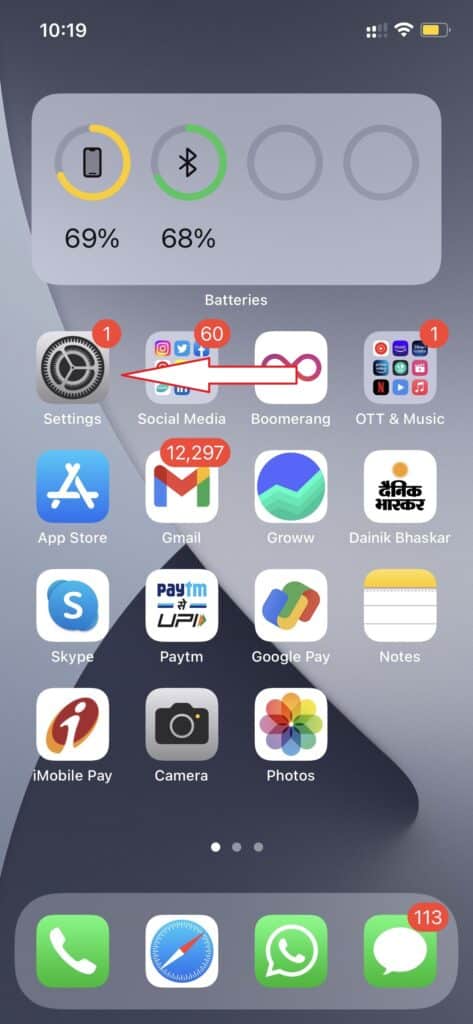 3. When you tap the Settings icon, it will open a new menu, where you will find different settings options for your iPhone, such as Wi-Fi, Mobile Data, Personal Hotspot, Bluetooth, etc. Tap on the Bluetooth option.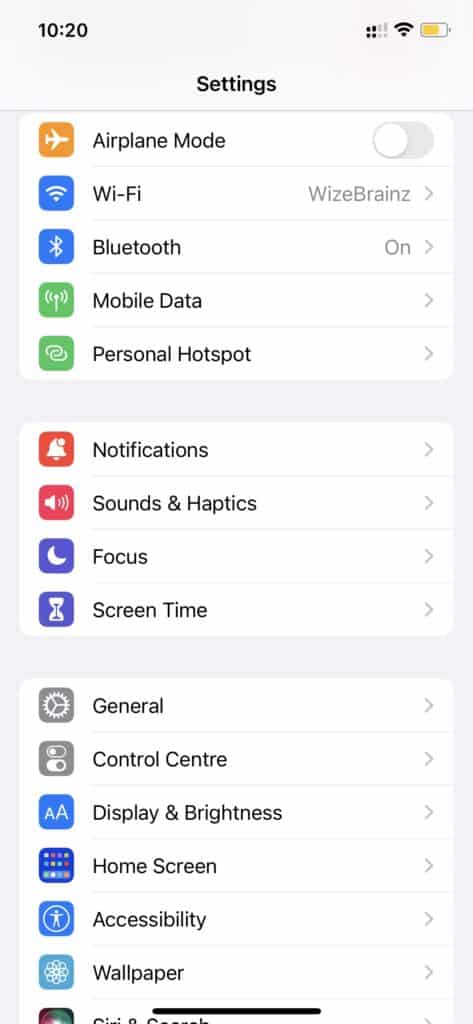 4. Ensure the Bluetooth is On (in our screenshot, the Bluetooth is already On ); if it is not on, turn it on by tapping the Turn Bluetooth On button.
5. When you tap the Turn on Bluetooth button, it will show the available devices in a list. Look for the icon of your Sony Headphones. The list of available devices will look like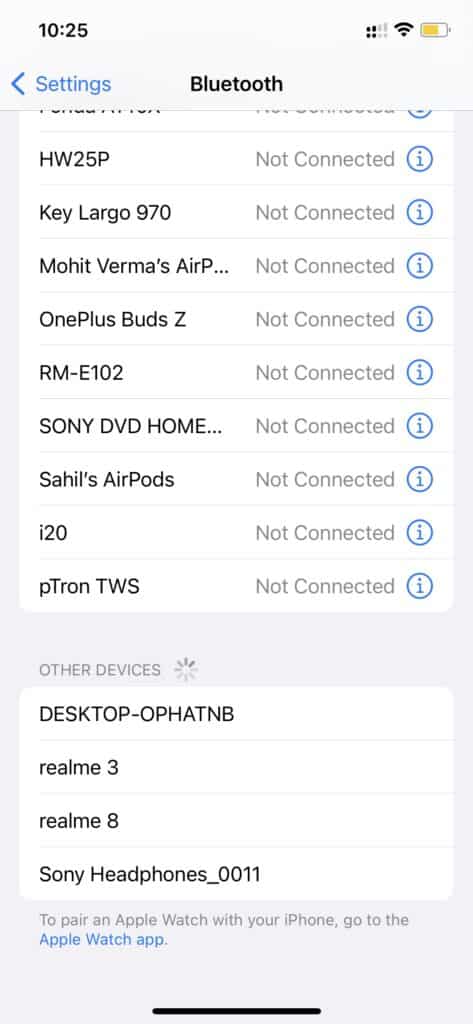 6. Once you find your Sony Headphones icon on the list, tap on it. It will pair your headphones with your iPhone. When the pairing is successful, your headphones are ready to use.
Once the pairing is successful, you can listen to your favorite music or can do or take calls on your headphones.
Note: You need to pair your Sony headphones to your iPhone only once. From next time onwards, there will be no need to pair again as if the Bluetooth of your iPhone is On and in range of your headphones. The pairing will be done automatically.
To delete an already paired Sony headphones, you need to click on the delete option of your headphones' icon from the list of connected devices. It will remove your Sony headphones from your iPhone's Connected Devices list.
You may wonder from where your Sony headphones get power. We will now talk about it.
How do Sony Headphones get Power?
Wired headphones get power from the host device, which means if you connect a wired pair of Sony headphones to your iPhone, your headphones will work on your iPhone's power.
The question is how non-wired headphones get power. The answer is that these are chargeable, just like your iPhone. You are provided with a charging cable along with your Sony headphones. Just connect the charging cable to a suitable adapter and plug it into your headphones to charge them.
These headphones provide ample battery backup, so you will not need to carry the charger with you if you are on a one or two-day trip.
Wired or Non-Wired: Which One is Better?
Both wired and non-wired Sony headphones provide the same quality of sound. The first requires you to plug the wire into the dedicated jack, and the headphones are ready to use. While the latter requires you to pair them using your iPhone's Bluetooth.
Wired headphones come with a risk as sometimes you forget that you have connected your iPhone with wired headphones, and your phone may drop on the ground and gets damaged.
At the same time, non-wired headphones ensure the safety of your phone as you don't need to carry your phone along if you are using your phone within 10 meters range. In my opinion, non-wired Sony headphones are the best.
Conclusion: Sony's headphones are the best in sound quality, and no other headphones can match their quality. In this post, you will complete information on how to pair your Sony headphones to your iPhone. Do give it a reading, and I hope it will help you.
See Also
How to Connect Bluetooth Mouse to Mac
How to Connect Bluetooth Headphones to Xbox One