How to Change WiFi Password Spectrum? – Getting Started
In today's environment, having access to the internet has become essential for every household.
Presently, everyone has their own personal internet connection, and WiFi routers are the access points for these internet connections.
If you've recently purchased a new router from Spectrum, you might want to modify the name and password of your WiFi network.
Keep in mind that this option is available on all routers and access points, not just Spectrum's.
There are several reasons why you might want to change your Spectrum WiFi password. The most important is, of course, safety.
If you create a name and passcode for your WiFi distinct from the regular one you have, hackers will have a harder time cracking it.
The ease of use is another major reason to change your Spectrum WiFi password.
We can all agree that a password you create is far easier to remember and type into all of the required devices than a random string of letters from your router's handbook.
That said, let's look at how to change the WiFi name and password on a Charter Spectrum router.
Change Spectrum WiFi Password Via Internet Browser
Spectrum's infrastructure has a large number of routers, and this tends to make things difficult for most people when it comes to changing WiFi passcodes.
But, no need to panic; we'll show you that this isn't difficult regardless of the Spectrum router you own. So, to modify the WiFi passcode on a Spectrum router, follow these instructions:
To begin, connect your laptop or smartphone to the Spectrum WiFi network whose username and passcode you'd like to change.
Next, open a browser and enter '192.168.0.1' into the address bar. If this doesn't work, look for the correct I.P. address on the back of your router. You can also use the Command Prompt function to find the I.P. address of your router.
Once you've typed the I.P. address in the address bar, click on 'Enter.'
Now you'll need to login into your Spectrum router administrator dashboard with the default WiFi username and password.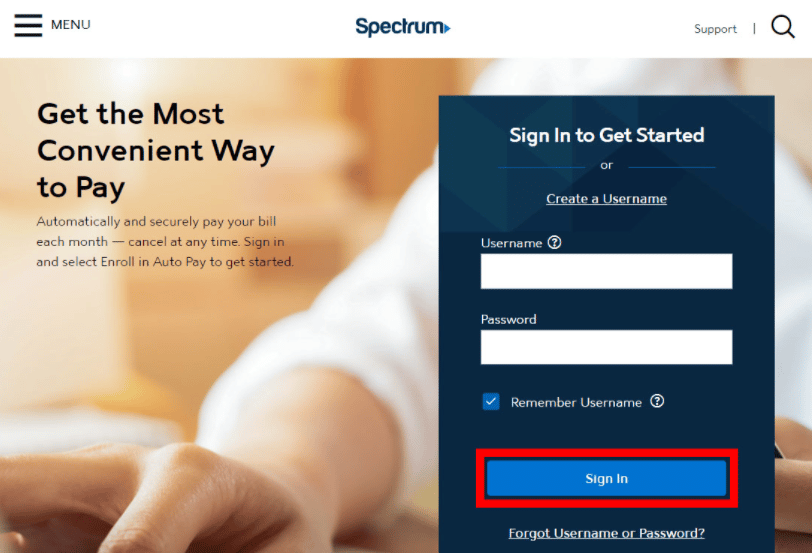 The default usernames and passcodes for Spectrum routers vary by vendor.
You can change your WiFi name and passcode now that you've logged into your Spectrum Router Administrator dashboard.
Click on the 'Internet' tab to change the WiFi name and password.

The passcode is normally changed under the 'Router' section. This section is labeled as 'Manage Network' in the admin dashboard.
Most Spectrum routers have what's known as dual WiFi. Such routers broadcast WiFi at 2.4Ghz and 5Ghz, which means you essentially have two WiFi networks.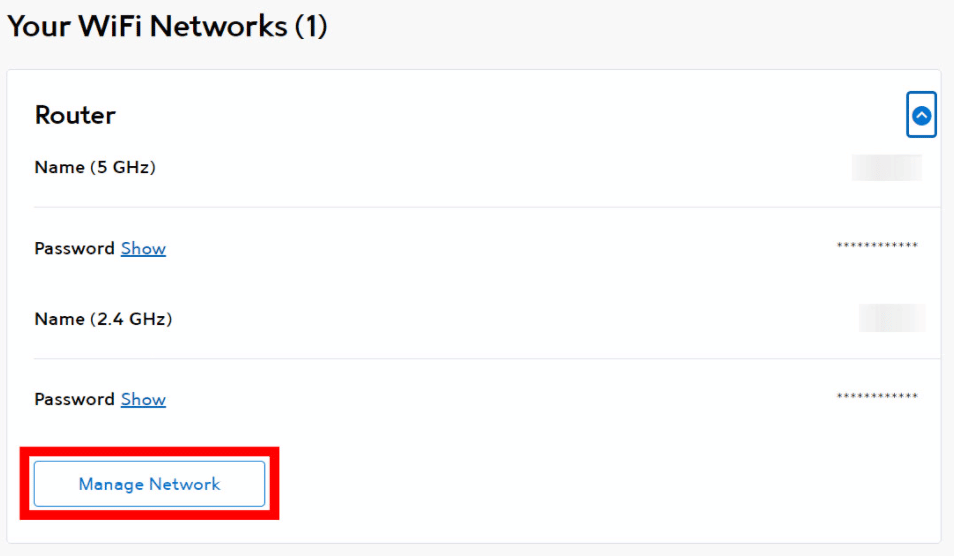 To update the WiFi password, click on each one. Keep in mind that you can use the same passcode on both networks.
Save your changes once you've done modifying your Spectrum WiFi passcode.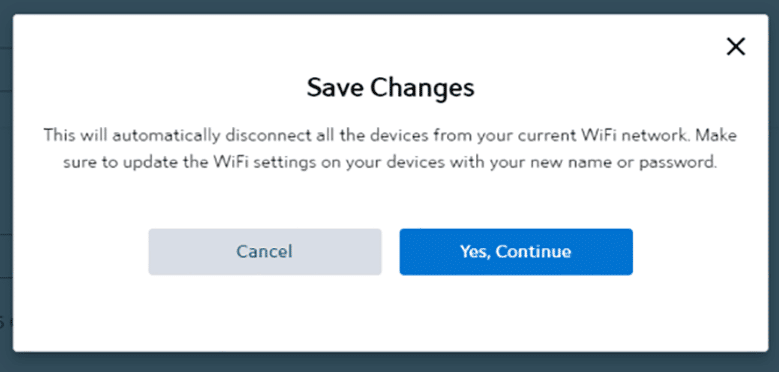 It goes without saying that since you've changed your WiFi passcode, you'll have to reconnect any previously connected device to use WiFi.
Change Spectrum WiFi Password Using My Spectrum App
On your smartphone, download the My Spectrum app. For Android devices, go to the Google Play Store; for iPads and iPhones, go to the Apple App Store.
Next, launch the app and accept the 'Terms and Conditions.'
Then type your Spectrum WiFi username and passcode and click 'Sign in.'
Next, click on 'Services,' this option is at the bottom of your screen
Then click on 'View and Edit Network Info.'
Finally, enter a new network name and passcode and click 'Save.'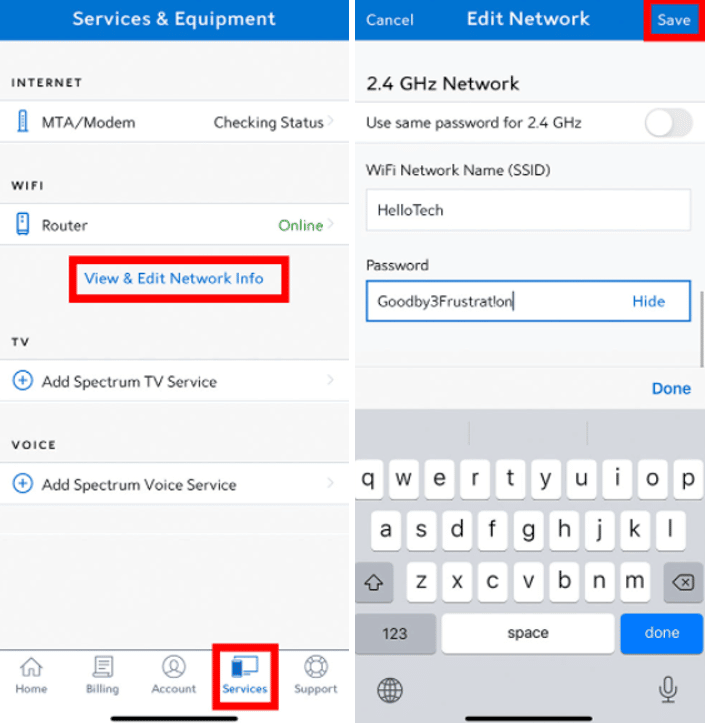 How to Set a Strong Password for Spectrum
We have answered 'how to change WiFi password for Spectrum'. However, it's pointless if you're going to set a password that can be easily cracked by the same hackers or outsiders you're trying to deter. So how can you set a strong password for Spectrum?
Don't use a password with the same character in succession, such as Spectrum888.
Don't use connecting characters such as 1234 or KLM.
Don't use the same password for all of your accounts.
Keep your password in your head rather than writing it down.
Use a password that has nothing to do with your personal information. For instance, don't use your birthday date or campus admission number.
Final Thought
Changing your WiFi network passcode is a breeze if you're a Spectrum user. You can do it with only a few clicks in Windows or any other operating system.
Even if the default passcode seems strong, there is a possibility that someone is snooping on your online activity.
See Also
Modem Router Combo for Spectrum