Best Computers for Kids with Autism – Overview
Computers can calm autistic kids and also stimulate their ability to communicate.
Autistic kids prefer interacting with a computer interface because they have active control over it, making it less threatening than face-to-face conversations.
If you are considering buying a computer for an autistic child, this comprehensive guide can make your search easier. Here are the best computers for kids with autism.
We may earn an affiliate commission when you purchase through links on our site.
1. Google Pixelbook Go
The best computer for kids with autism should be simple to use and secure. Google Pixelbook Go offers these features and so much more, including a Chrome OS and long battery life.
It also features an incredible 1080p webcam and an attractive keyboard. With this computer, a child can enjoy watching their favorite cartoon, and playing their favorite games on its sharp display.
Specifications
CPU: Intel Core m3 – i7
RAM: 8GB – 16GB
Graphics: Intel UHD Graphics 615
Storage: 64GB – 256GB
Rare 1080p webcam
'Hush' keyboard
Screen: 13.3-inch Full HD – 13.3-inch 4K Ultra HD Molecular Display
2. Microsoft Surface Go 2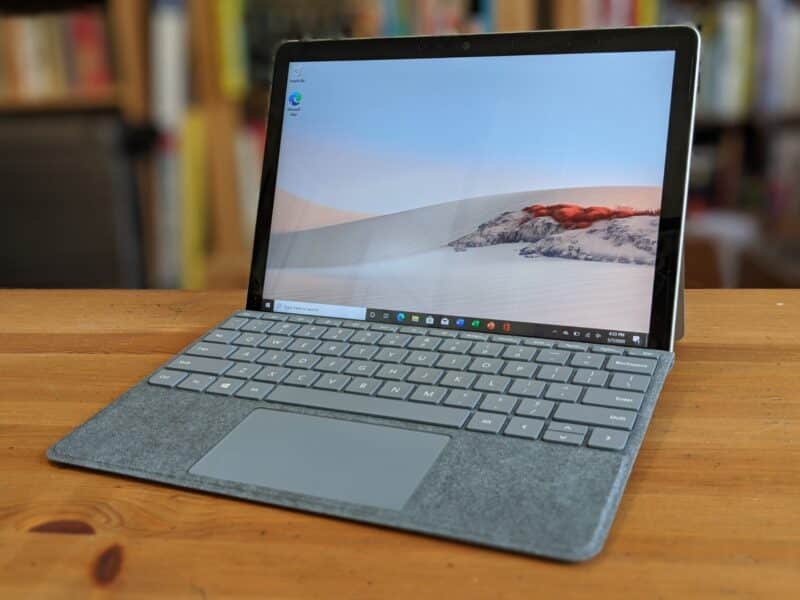 The Microsoft Surface GO, a computer line, is a popular option for budget-conscious buyers. The Surface Go 2 comes in a premium design at an affordable rate.
Its ability to run full Windows makes it more capable than most tablets in the market in terms of app running capabilities.
Even with all these features, it is a highly portable computer, making it easy for autistic kids to carry around.
Specifications
CPU: 8th Gen Intel Core m3 – Intel Pentium Gold Processor 4425Y
RAM: 4GB – 8GB
Storage: 64GB eMMC – 128GB SSD
Graphics: Intel UHD Graphics 615
Premium design
Runs full Windows 10
See Also: Docking Station for Microsoft Surface Pro
3. Acer Chromebook 15
The latest 15-inch Chromebook from Acer is everything a child needs in a computer and so much more.
It is specifically ideal for kids who require a computer that can be used for school projects. It offers serious sophistication to a kid's computing needs and experience.
The design features USB 3.0 support, HD display, as well as HDR webcam capabilities.
This is the perfect laptop for an autistic kid approaching teenagehood as it swaps kid-proof features for a more luxurious experience and larger size.
Specifications
CPU: Intel Pentium N4200
RAM: 4GB
Storage: 32GB
Luxury feel
Graphics: Intel HD Graphics 505
Screen: 15.6-inch FHD (1,920 x 1,080) IPS
4. Lenovo IdeaPad Duet Chromebook
With this Lenovo computer, your kids get to enjoy the convenience of a tablet and the functionality of a Chromebook.
It makes use of the Chrome OS to deliver versatility at an affordable price range.
It comes with a long battery life of up to 22 hours, ensuring a kid can use it for long hours without worrying about battery charge.
Specifications
CPU: MediaTek Helio P60T Processor
RAM: 4GB LPDDR4X
Storage: 64GB eMMC
Graphics: ARM G72 MP3 800GHz
Screen: 10.1″ FHD (1920 x 1200) IPS, glossy touchscreen, 400 nits
Lightweight and portable
Long battery life
5. MacBook Air 2020
The lightest and thinnest MacBook from Apple is back in an improved version. The new version features an improved keyboard that is easy to use for autistic kids, more storage space to save all their favorite games and videos, and a better processor for better performance.
Specifications
CPU: Intel Core i3 – i7
RAM: 8GB – 16GB
Storage: 256GB – 2TB PCIe-based SSD
Graphics: Intel Iris Plus Graphics
Dimensions: 30.41 x 21.24 x 1.61 cm
10th generation processor
Improved keyboard
6. Asus Chromebook Flip C214
This is an Asus Chromebook computer designed specifically for school-going kids, making it perfect for completing assignments and attending online classes.
It comes with an optimum Wi-Fi antenna, is highly durable and has a kid-friendly interface.
It comes in a drop-proof body, making it perfect for autistic kids with motor skills challenges.
It also features a spill-resistant keyboard and a lay-flat feature, making it break-proof when the screen is pushed.
Specifications.
CPU: Intel Gemini Lake Dual-Core Celeron N4000
RAM: 4GB
Storage: 32GB eMMC storage
Graphics: Intel Graphics
HD + 5M Pixel dual Camera
6 GHz for fast and snappy performance
Dimensions: 11.6 inches HD 1366 x 768 touchscreen with anti-glare
7. Lenovo Yoga C940
With this computer, Lenovo did not spare any detail on the design.
The Lenovo Yoga is a highly portable laptop, perfect for autistic kids, and comes in an attractive design that will make them want to use it.
What's more, it comes with great performance capability with a keyboard any autistic kid will find a breeze to use.
Specifications
CPU: up to 10th-generation Intel Core i7
RAM: up to 16GB
Storage: up to 2TB SSD PCIe
Graphics: Intel Iris Plus Graphics
Excellent design
Comfortable keyboard
Great performance
Screen: 14" FHD (1920 x 1080) IPS, touchscreen, glossy, 400 nits –14″ UHD (3840 x 2160) IPS, touchscreen, glossy, HDR 400, 500 nits
See Also
Best iPads for Kids with Autism