PORTRAIT SETTINGS ON CANON G7X MARK II
How to get to portrait mode?
First change to other Shooting Modes to shoot more effectively in various scenes, and take shots enhanced with unique image effects or captured using special functions.
Choose a mode matching the shooting scene, and the camera will automatically configure the settings for optimal shots.
[Portrait] mode (
) is best for subject-centered shooting. So how to set the shooting mode to portrait?
Enter [SCN] mode.
Set the mode dial to [SCN]
and then press the < Power > button.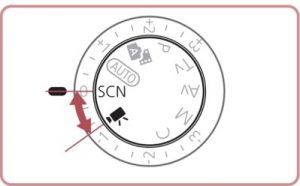 Choose a shooting mode.
Press the [

] button, choose [
] in the menu, and then choose a shooting mode.
-Hint: Turn the mode dial to [SCN]. You can also choose the shooting
mode by touching [
] in the upper left.
If this icon [] appears on the LCD screen, the setting process is complete.
Now you're in shooting Portraits mode.
You can either shoot still images or movies, as shots of people with a softening effect.
CANON G7X MARK II: Overview
Pros
A great choice for travelers in need of a pocket companion for capturing images.
Lightweight and compact design of Canon G7X Mark II can assist its user better on the go.
Ensures amazing results for low light conditions.
Maintains easy control for depth of field.
Cons
Not so special results for sports photography and peak action.
Single short life battery unit which is not good for taking the camera out for an adventure tour.
Conclusion
Canon G7X Markk II is a powershot camera the successor of Canon G7X.
It's portability and powerful DIGIC 7 processor makes this camera very attractive for photographers on the move.
Canon G7X is a Canon flip screen camera that flips both and down with a tiltable flash.
take a look at the full Canon G7 X Mark II Reviews and Price