Security of premises and property is extremely essential today. There have been great advances in security technology over the years.
The launch of the solar-powered security camera made waves in the CCTV industry worldwide.
Expert security providers realize that security systems should be complex and often tailored to suit the individual needs of specific clients. Business security is vastly different from home security in many ways.
Security systems are very crucial for a business, especially if it is located in an isolated area or is set at an outdoor location.
Often, such isolated places face power cuts for one or more reasons. This causes the entire security system to shut down soon, despite having seemingly sufficient power backup.
About solar security camera
To remedy this situation and offer true round-the-clock security, increasing numbers of businesses and homeowners are looking for the best solar security camera in the market.
Solar security cameras come in different models, shapes and sizes. The main benefit of using sun-powered CCTV cameras in your business or home is that it is not dependent on the conventional electric connection.
In contrast, it is powered by solar cells, which are charged throughout the day and can work through the night effortlessly.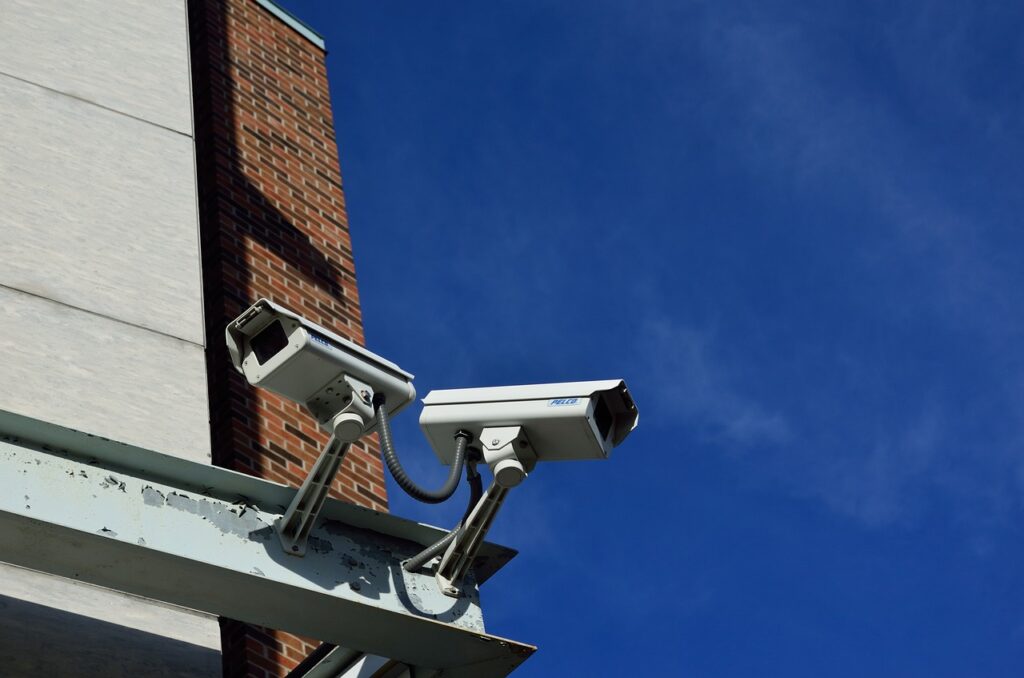 Before you make the buy, we suggest you go through this article and get a better understanding of the basics behind solar-powered security cameras.
Benefits of solar security camera
First off, let's check out the express benefits of using solar security cameras:
1 – Quick and easy to install
These cameras can be attached to almost any horizontal or vertical surface using bolts. These do not require complex wiring and connection with conventional power sources and can be easily managed with only minimal maintenance.
2 – No electric connection is required
Conventional electric power sources are not required to run solar-powered security cameras. The camera is completely powered by solar cells and can even have backup batteries in case the camera does not get sufficient sunlight to charge completely. This way, you do not have to worry about your security system collapsing even after a power outage.
3 – Cloud-based control
Usually, solar security cameras can be easily monitored using your smartphone as these are connected to cloud servers. This allows you to access and control your security feed from anywhere and at any time. Additionally, this also prevents the need for frequent visits from the maintenance crew too.
4 – Smart systems
The more advanced remote solar security cameras can send notifications to you or other designated persons in case an unusual or intruder activity is detected.
5 – Eco friendly
As these security cameras do not require a conventional electric connection to function, it helps to save on your utility bills. Additionally, the lack of electricity also makes the solar-powered security camera a clean and environment-friendly option.
6 – Ease of access
Most solar security cameras have built-in Wi-Fi connectivity features. This makes it easier to connect the cameras to your local network, which you can access and monitor from anywhere.
7 – 24/7 security
Thanks to their ability to function on solar power, these security cameras can function round the clock, even during long periods of power outages. Additionally, the inclusion of backup batteries also makes solar security cameras preferable and incredibly efficient.
8 – Strong and durable service
Solar-powered security cameras are designed for use outdoors and indoors.
The outer body is created using the most advanced technology. This makes the solar security cameras sturdier and able to withstand harsh weather and climatic conditions without breaking down.
Advantages of solar security camera
The enormous advantages offered by solar security cameras are truly incredible. Let's check out the specific advantages that you can expect from buying solar security camera systems from reliable brands:
Affordable
Solar-powered security cameras have become increasingly popular in the past recent years because of the significant drops in their cost.
The growth of competition in the market is prompting small and large security camera makers to provide a cost-efficient and feasible security system.
Additionally, solar security camera systems are often subsidized for home use. This is to encourage the use of clean energy all around.
The material used to make solar security cameras is mostly procured from eco-friendly sources, such as recycled material.
Besides this, using solar-powered security cameras is more affordable as it does not incur high charges of electricity usage on your utility bills.
Flexible
Certain businesses, national parks, construction sites, properties and farms are often located in remote places where even a utility connection may not exist.
This creates significant problems when it comes to offering security to these locations.
Setting up a conventional CCTV network in a large national park is not practical, mainly due to the enormous cost of providing these cameras with a conventional electric power source.
This is easily remedied by replacing conventional security cameras with solar security camera systems.
As solar-powered cameras do not require a conventional electrical connection, these can be successfully installed at remote places and assured to run for a long period of time.
Scalable
The last but not the least benefit of using solar security cameras is their immense scalability. Thanks to the widespread use of 4G technology, solar security cameras can store their video recordings directly onto a cloud-based server.
Hence, as long as the solar-powered security camera is located within the range of a 4G network cellular tower, the security system will keep running and recording diligently.
This way, you can easily access the recordings on the cloud server using your smartphone, from anywhere and at any time.
Conclusion
Solar security camera systems are incredibly affordable, flexible and have impressive scalability.
Apart from helping to save significantly on electricity charges on your utility bill, solar security cameras are also extremely reliable, advanced and effective. To ensure that your CCTV system is up-to-date with the latest technology, it is highly recommended to buy solar security cameras from renowned and reliable brands.
Let us know your experience with solar security cameras in the comments section below.
See Also