IBM Data Science Professional Certificate
The IBM Data Science Pro Certificate is one of the steps you need to become a data scientist. Since it's an introductory course, it's open to everyone with or without prior Data Science knowledge or experience.
In this review, we'll look at it in detail so you can decide if you should sign up. We'll look at what it is, how much it costs, and the modules you need to complete to get the IBM certificate.
What is it?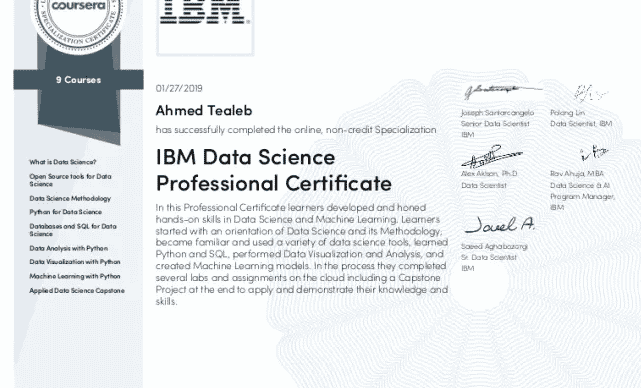 The IBM Data Analyst Pro Certificate is a web-based, self-paced expert training course designed by tech behemoth IBM and it can help you become an entry-level data scientist.
The modules can be done on online learning platforms, including Coursera and Edx.
How Much Does It Cost?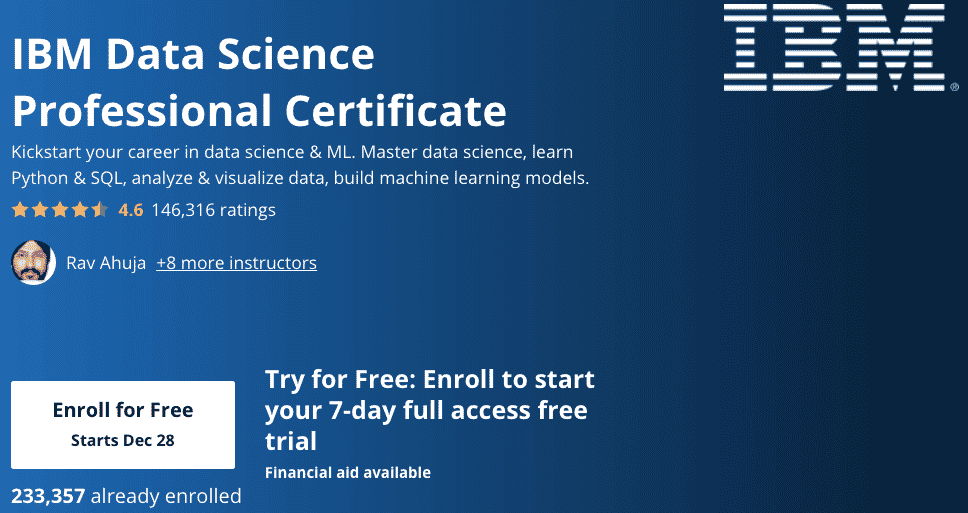 If you complete all modules in seven days, it's free. But you can't finish all of them within the 7-day trial period unless you cut corners, meaning you won't gain the knowledge required.
Otherwise, the price for the entire course is $39 per month, but the course requires 11 months which means the total cost is around $429.
Like most people, you can finish the course in less than 11 months and save cash because you only need to pay for the time spent learning the modules.
Modules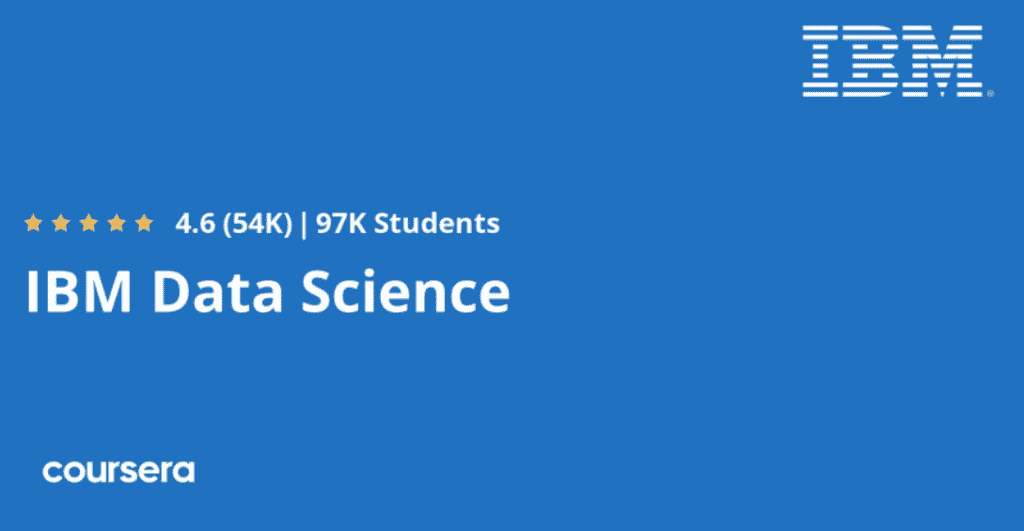 The IBM Data Analyst Professional Certificate comprises ten different modules focusing on data science competencies, learning programming languages such as Python and SQL, building machine learning models, and analyzing and visualizing data.
The content is well-structured with consistent development in both practical tasks and theoretical principles. You can download the learning material and study offline.
The modules in the IBM Data Science Professional Certificate are as follows:
An Intro to Data Science
This module offers an extensive overview of the main subject and helps to clarify concepts. It defines who a data scientist is and what the position entails.
Data Science Tools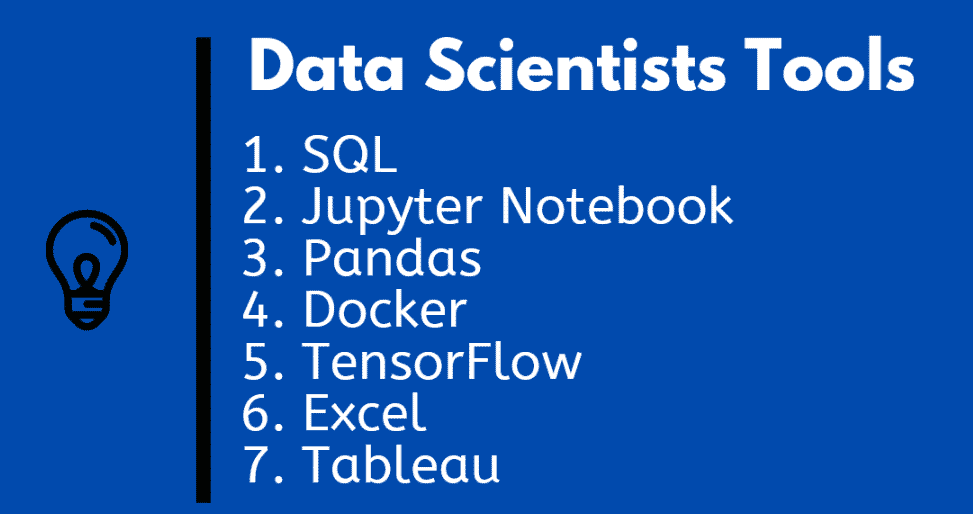 This module offers you a host of tools to apply to various use cases you might encounter as a data scientist. In fact, this is the most useful module for beginners.
The Data Science Methodology
In this module, you'll learn about the methodology, practices, and requirements of data science to better understand how to solve problems with data and make sure the data is relevant and well used to address various business cases and real-world projects.
Python for Data Science, AI & Development
In this module, you'll learn the fundamentals of the programming language; Python and how to work with popular data types.
It's relatively easy because you don't need prior development knowledge; all you need is some basic coding skills and theory.
SQL for Data Science
This module teaches you how to utilize and apply SQL to communicate better and source data from databases. This is compulsory for anyone working in the data science sector.
Python Basics for Data Science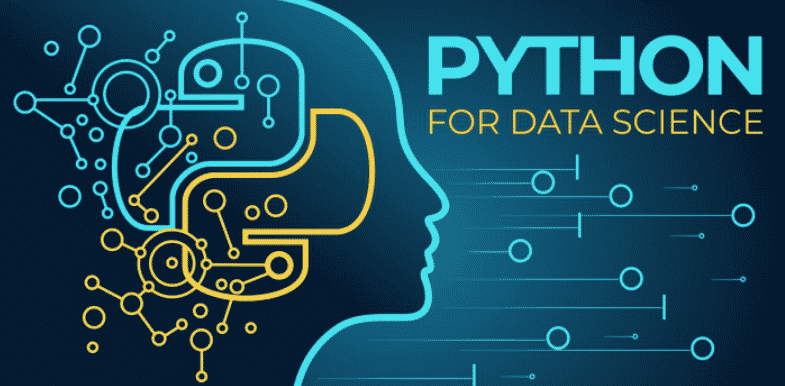 This module offers you a beginner-friendly intro to Python for Data Science. You'll be ready to build Python scripts independently through lab exercise practice.
Python for Data Science Project
This module is designed to help you learn beginner-friendly Python skills for handling all types of data science projects.
Data Analysis with Python
In this module, you'll learn how to assess data in Python using multi-faceted arrays in NumPy, use the SciPy library for arithmetic routines, control DataFrames in pandas and conduct ML (machine learning) using Sci-kit-learn, etc.
Data Visualization with Python
In this module, you'll learn the graphical illustration of data allowing you to efficiently and interactively convey insights to clients, stakeholders, etc.
Introduction to Machine learning with Python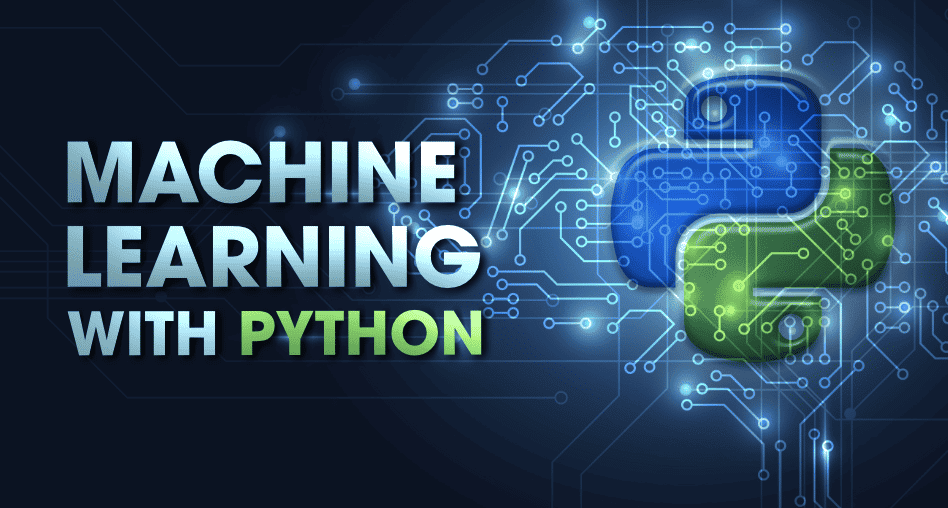 This module introduces the most widespread and fundamental machine learning techniques you can utilize alongside Python.
Obviously, it doesn't immediately transform you into a professional, but it's a good place to start if you've never attempted anything like it.
Machine Learning and Data Science Capstone Project
This is a favorite for many people because it's the last module you need to go through prior to getting the certificate. In this module, you must apply all of your newly acquired skills to a project of your own choosing.
So come up with a project to showcase your Data Science skills to potential employers.
Apply the data science and ML skills you've acquired to assess and visualize a real-life business case data set and create an extrapolative model.
Final Thought
As you can see, the IBM Data Science Professional Certificate comprises ten different modules.
You can study the modules individually or simultaneously; the choice is yours. Once you complete all ten modules, you will get your certificate.
See Also
Cybersecurity Course for Beginners