Amazon Prime vs Netflix – Overview
When it comes to on-demand streaming platforms, there is none bigger than Netflix. It's the most popular streaming service in the US and the rest of the world by a mile.
However, Netflix is by no means a monopoly; there are a couple of other reputable streaming services competing for your dollars in monthly subscriptions.
One of those streaming giants is Amazon Prime Video which begs the question of which one is better?
The decision between Prime Video and Netflix isn't simple.
After all, an Amazon Prime subscription not only gives you access to movies and TV shows, you also get many more perks such as free grocery deliveries and Amazon Music.
However, if all you care about is the better service with regard to streaming movies and TV shows, you can examine the strengths of both and arrive at a conclusion.
Fortunately, we have compiled a review to help you do exactly that.
Content
Netflix has thousands of Hollywood documentaries, movies, specials, and TV shows. However, over the years, Netflix's original content, such as Lucifer, Stranger Things, and You, has been stealing the spotlight and enhancing Netflix's appeal.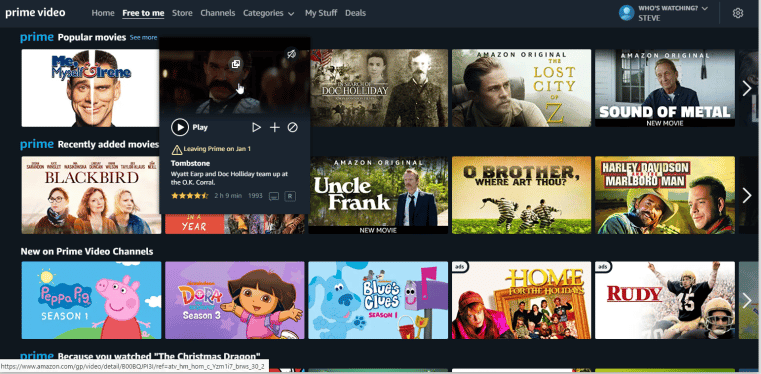 On the other hand, Prime Video has a much larger library of movies and TV shows, with about 24,000 movies and 2,100 TV shows, which dwarfs Netflix and all other major streaming platforms such as Apple TV, HBO, and Hulu.
However, most of Prime Video's Hollywood content is old, and among them are some mediocre titles. Fortunately, Amazon recently acquired MGM studios which means titles such as James Bond and Rocky Balboa will be coming to Prime Video.
Device Support
Subscribing to a streaming platform makes no sense if the platform isn't compatible with your devices. Prime Video is compatible with many devices such as Apple TV, Amazon Fire TV, Android, iOS, Mac or PC, PS3 or higher, Roku TV, Xbox 360 or higher, etc.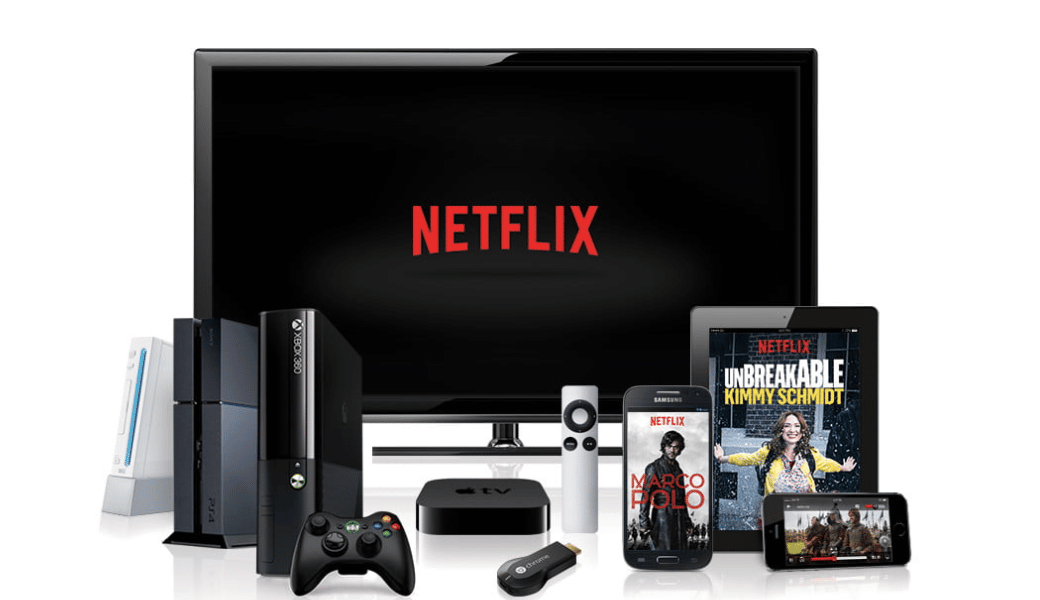 Netflix being the king of the media streaming space has the best device compatibility. It supports the same devices as Amazon Prime Video and a couple more such as Nintendo 3DS and Windows OS Phone.
Pricing
Netflix has a three-tier subscription program comprising SD (Standard Definition), HD (High Definition), and 4K UHD (Ultra High Definition).
On the other hand, Amazon has one subscription program combined with its Prime membership; it's also available for personal purchase.
| Amazon Prime Video vs. Netflix | Prime Video | Prime Video + Prime Membership | Netflix SD | Neflix HD | Netflix 4K UHD |
| --- | --- | --- | --- | --- | --- |
| Charges | $9/mo. | $9/mo. or $119/yr | $9/mo. | $13/mo. | $16/mo. |
| Required Streaming Speeds | 15 Mbps | 15 Mbps | 3 Mbps | 5 Mbps | 25 Mbps |
| Simultaneous Streams | 2 | 2 | 1 | 2 | 4 |
| Offline Watching | Yes | Yes | Yes | Yes | Yes |
| Free Trial | 30 days | 30 days | 30 days | 30 days | 30 days |
Each Netflix subscription gives users access to the entire range of ad-free Netflix Movies and TV shows.
The only difference is the more you pay for Netflix, the better the quality you get, and a couple of devices are able to stream simultaneously.
Prime Video is easier; you can pay a fee of $119 (annual Amazon Prime membership) to get ad-free access to the entire catalog of Amazon Prime Video movies and TV shows, plus a couple of shopping-related benefits as well as Amazon Music service.
If you like, you can also pay $13 per month for Amazon Prime or pay $9 per month for Amazon Prime Video only.
Live TV and Extras
One of the most appealing aspects of Netflix is that it's an all-rounder. A month's subscription gives you access to all titles. But if you had a cable subscription, you might want something different, something to replace your now-canceled subscription.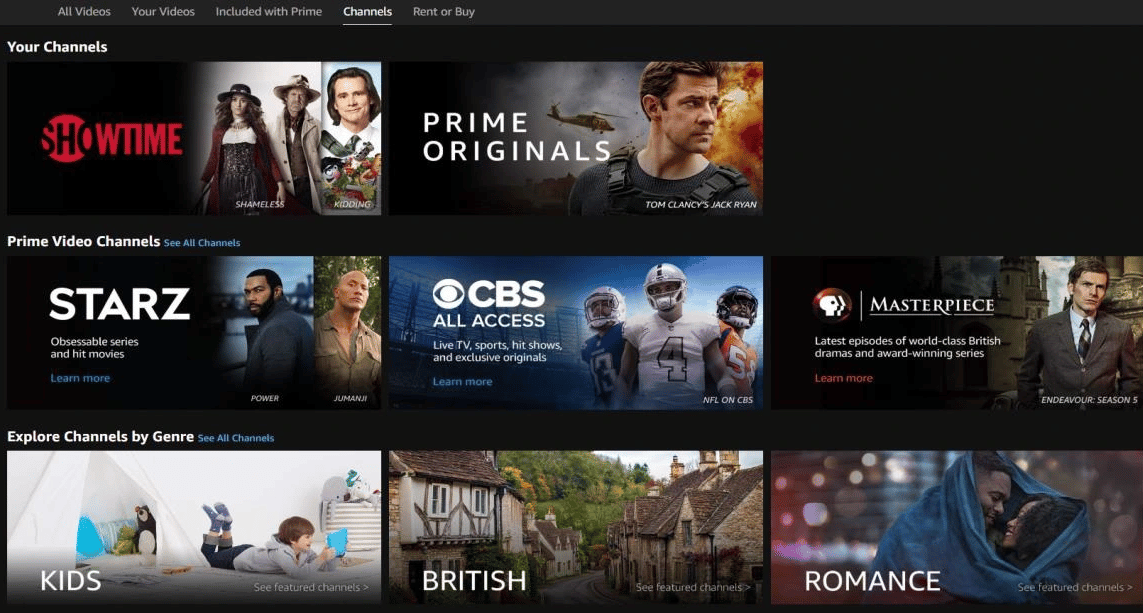 Note that Prime Video has two kinds of premium content not included in the $119 yearly Amazon Prime membership. The 'Rent or Buy' option has a good range of classics and new movies for as low as $4.
What's more, there is 'Amazon Channels,' which is a means of subscribing to 3rd party cable networks such as CBS All Access, Epix, Showtime, Starz, etc. These channels have the option of live streaming as you would over cable or satellite.
User Experience
The Prime Video interface is a tad awkward, and it varies in style and user-friendliness from one device to the next. Unsurprisingly, Prime Video works best on Amazon's Fire TV streamers.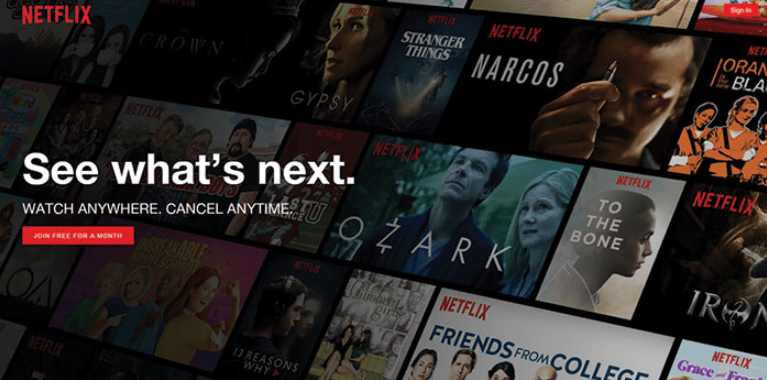 On the other hand, Netflix has one of the most consistent interfaces, with slight changes noted from one device to the next.
Such changes are meant to address and weaknesses of various platforms such as Android and iOS.
In addition, you can have several Netflix user profiles in one account, a kids-only profile to ensure your kids don't watch PG-18 and above content.
Final Thought
All in all, both Prime Video and Netflix have a lot to offer when it comes to quality content. You might be inclined to pick Prime Video, especially if you're in the Amazon ecosystem because you'll be required to pay a small fee.
However, if pure movie and TV show streaming is what you're after, then Netflix is the best streaming platform, hands down.