Best iPads for Kids – Overview
The Best iPad for Kids is all you want to keep your kids busy while doing other activities. Due to lockdown and maintaining social distancing, schools and colleges have now started taking online classes.
This has made an iPad or a tablet a necessity for kids. Today, we have prepared a list of the Best iPads for Kids in 2021 so that you can buy a reliable iPad for your kids to study and do other productive activities on it.
To make the selection process easy, here we have prepared a detailed comparison table for you. The best iPads for Kids comparison table helps you to pick the suitable iPad for your kids quickly.
Comparison Table of Best iPads for Kids:
Name
Display Size
Processor
Camera
Battery Life
2020 Apple iPad Pro
12.9-inches
A12Z Processor
12 MP Wide Camera+
12 MP Ultra-Wide Camera
Up to 10 hours
2019 Apple iPad Mini
7.9-inches Retina Display
A12 Bionic Chip
8 MP Back Camera+
7 MP Front Camera
Up to 10 hours
2020 Apple iPad Air
10.9-inches Liquid Retina Display
A14 Bionic Chip
12 MP Back Camera+
7 MP Front Camera
Up to 10 hours
2021 Apple iPad Mini
8.3-inches Liquid Retina Display
A15 Bionic Chip
12 MP Wide Back Camera+
12 MP Ultra-wide Front Camera
Up to 10 hours
2021 Apple 10.2-inch iPad
10.2-inches Retina Display
A13 Bionic Chip
8 MP Wide Back Camera+
12 MP Ultra Wide Front Camera
Up to 10 hours
We all know about the behavior of kids. Every child is different and so does their needs. Since not all parents can afford an expensive iPad, we have included iPads for all types of consumers.
The list contains iPads from mid-range to premium-range, let's check them out now!
Best iPads for Kids
Apple has slightly reduced the pricing of its iPads due to ongoing competition in the market.
This has made it easier for parents to pick the suitable iPad edition for their kids. Unlike Android-powered tablets, Apple's iPads add great value to your productivity.
1. 2020 Apple iPad Pro
Apple iPad Pro tagline tells us how productive the device is! The tagline says, "Your next computer is not a computer." This means the 2020 Apple iPad Pro comes with the power of a laptop.
Unlike other editions, the 2020 edition of iPad Pro is compatible with Trackpad and a Keyboard that lets you use it as a laptop.
Being an Apple product, this edition of the iPad comes with the world's most advanced display. Yes, the iPad Pro sports an all-screen liquid Retina display. The display features ProMotion and Truetone that gives you the best visuals.
The 2020 iPad Pro is powered by Apple's most powerful chip i.e. the A12Z Bionic chip. It is more powerful than any other laptop present on the market.
It is the perfect edition for kids for their schooling tasks and their gaming. Yes, this iPad runs premium games with high graphics smoothly.
Moreover, the iPad Pro comes with a powerful camera that takes ultrawide shots with good quality.
The built-in LiDar scanner is designed with the latest Augmented Reality offering the best picture quality for your photos and videos.
It is compatible with Apple's new Magic Keyboard. You can get the best experience of typing just like a PC through this Magic Keyboard.
Key Features:
Super slim and handy designed
Sturdy aluminum body for long-lasting performance
Powered by the most advanced A12Z Bionic Chip
Sports an all-screen Liquid Retina Display
A built-in ultra-wide-angle lens designed with Augmented Reality
Supports Magic Keyboard
2. 2019 Apple iPad Mini
The 2019 Apple iPad Mini is also known as the iPad Mini 5 i.e. the fifth generation of Apple's revolutionary compact-sized tablet device.
The iPad Mini packs a bunch of features that make it the world's most popular and pocketable tablet device designed for all types of users.
The iPad Mini sports a 7.9-inch Retina Display, the most advanced display in this particular segment. You can watch movies, videos or play games on it with realistic visuals.
It doesn't come with an option of FaceID; however, the 2019 iPad Mini comes with the standard TouchID feature as a security feature to lock and unlock the device as well as to login to other supported apps.
The device is powered by Apple's 12 Bionic Chip. The device also supports Apple's Pencil as a complimentary feature.
The device sports an 8 Megapixel camera at the backside as the primary camera for video calls and for taking quality photos.
It can record high-quality videos at 1080 pixels. Kids can attend online classes and conferences through the built-in camera.
Key Features:
Super-sleek and handy design with compact-size
Super advanced Retina Display
Powered by A12 Bionic Chip
8 Megapixel Built-in Camera
Supports Apple's Pencil
3. 2020 Apple iPad Air
The 2020 Apple iPad Air has several benefits that make it an ideal iPad for your kids. Starting from their online classes to help them play their favorite games, the 2020 Apple iPad Air is the best gift that you can give to your kids on their birthdays to make them more productive.
The device sports an extra-large 10.9-inch liquid retina display. The true-tone display comes with P3 wide color support for rich visuals. It is powered by Apple's A14 Bionic Chipset, it is super smooth and powerful to handle multitasking.
It supports the standard security feature, Apple's Touch ID. You can make secure transactions through Apple Pay and can protect your applications using the Touch ID feature.
The reason why you should consider this device as the right choice for your kids is it comes with two individual cameras, the 20 Megapixel camera on the backside and a 7 Megapixel camera on the front side.
Kids can easily join online classes and do other activities on a widescreen with dual cameras.
Key Features:
9 Inch Liquid Retina Display
Supports touch Id
A14 Bionic Chip
12 Megapixel Back Camera with 7 Megapixel Front Camera
Available in multiple color options
4. 2021 Apple iPad Mini
Apple has made several changes to its existing iPad Mini device with the all-new 2021 edition.
The company has designed this new device to the current demands of the consumers. If you have kids at home, then investing in this edition adds more value to your purchase.
The new iPad Mini sports an 8.3-inch liquid retina display with true tone and wide color for better visuals. The company has used its most advanced processor i.e. A15 Bionic Chip equipped with a neural engine.
The standard TouchID feature is also there for extra security while making online transactions.
For online classes and parents' meetings at home, the Apple iPad Mini features a 12-megapixel wide camera on the backside as the primary camera and a 12 Megapixel ultra-wide camera on the front side.
The front camera has a unique Center stage feature making it the most advanced feature for cameras in the market.
Key Features:
Compact and stylish design with ultra-thin body
Made from a high-grade aluminum body for long-lasting life
Powered by Apple's most advanced A15 Bionic Chip
Built-in TouchID
Landscape stereo speakers
Better visuals with True Tone and Wide Color display
Built-in Wi-Fi 6 wireless connectivity
Long-lasting battery with up to 10 hours of backup
5. 2021 Apple 10.2-inch iPad
The original iPad also gets a new edition with the all-new 2021 Apple iPad. The new edition of the iPad boasts a set of advanced features to suit the demands of the new generation of consumers.
It has got all the features that make it an ideal device for your kids for their online classes and meetings.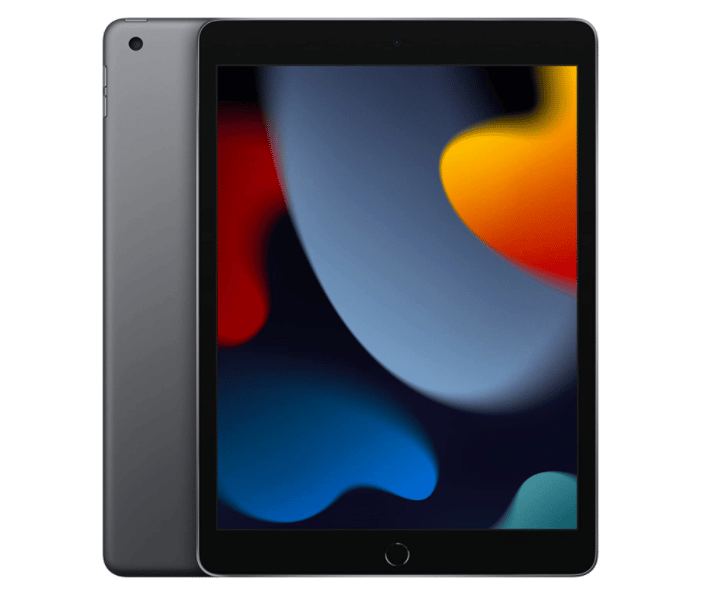 The 2021 Apple iPad sports a 10.2-inch Retina Display with a True Tone feature. It gives you an ultra-rich visual experience.
If you love to watch movies online, then this device gives you the best of entertainment. It is also good for those who love to play games on their device.
The device is powered by Apple's A13 Bionic Chip. It is ultra-fast and runs smoothly.
The device features an 8 Megapixel rear camera with a 12 Megapixel front-facing camera with a Center Stage feature.
The iPad comes with several variants; you can buy the new iPad with a storage capacity of up to 256GB.
Key Features:
2-inch Retina Display
An 8 MP rear camera with a 12 MP front-facing camera
Storage capacity of up to 256GB
Built-in TouchID
Ultra-fast Wi-Fi for wireless connectivity
Up to 10 hours of battery life
Take Away!
These are the market's best iPads for Kids. The above list contains iPads from different ranges.
Starting from mid-range to premium-end, from compact-sized to big-sized, you can buy a suitable iPad that comes under a budget price tag and suits the requirements of your kids.