How to Set Up Chromecast with Google Home App (Step by Step)
Chromecast is a line of media players that Google makes. This device is built as a tiny unit that you can easily tuck behind your TV. A Chromecast dongle basically takes content from the internet and displays it on your TV, whether the TV is smart or not.
Chromecast even allows you to display your smartphone's content on your TV. It does this via a feature known as 'screencasting.' Screencasting enables you to cast music, videos, or photos from your Android or Apple device to your TV with the press of a button.
But first, you need to connect the Chromecast dongle to your TV via the HDMI port. Then you can stream directly from the TV or use your mobile phone to cast whichever content you want to be displayed on a larger screen.
Chromecast can also be set up and used via an application that can be accessed on your Android Smart TV, Android smartphone or tablet, and Apple iPhone or iPad. So let's look at how you can set up Chromecast using the Google Home App.
The Process of Linking a Chromecast Dongle to The Google Home App Includes:
Connect the Chromecast to a power supply by using the provided USB cable
Then connect the Chromecast dongle to an HDMI port on the back of your TV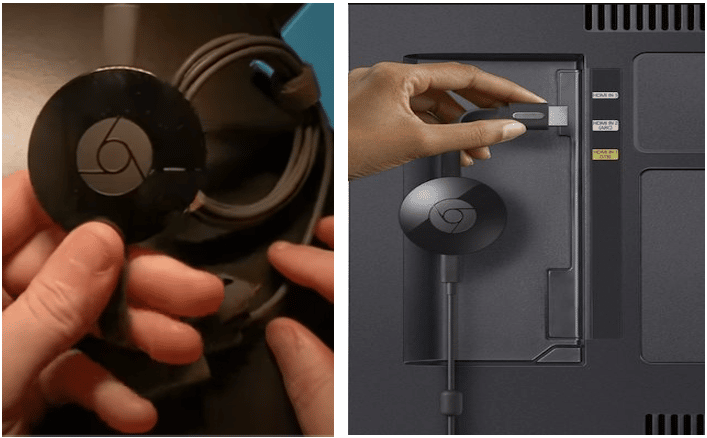 How to Set Up Chromecast with Google Home AppTurn on your TV and press the input button on your remote until you can see the Chromecast startup screen. The Chromecast will inform you it's working by issuing the prompt "Set me up" on your TV screen.
Before you begin the setup process, ensure that your Chromecast is on the same Wi-Fi network as your TV. Also, ensure that you have an Android or Apple smartphone or tablet on the same Wi-Fi network.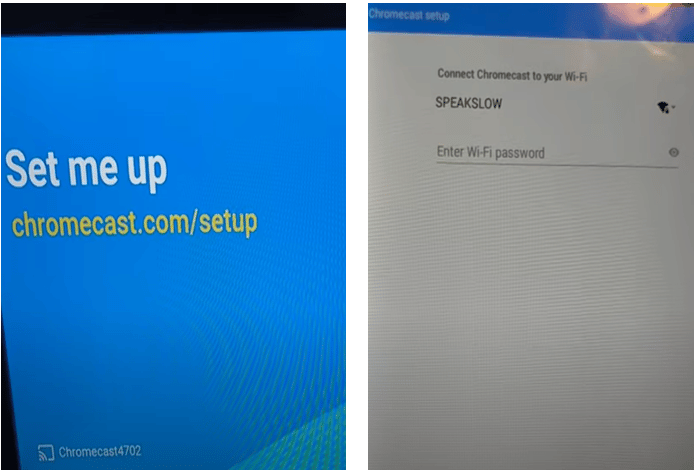 On your smartphone, download and install the Google Home App. For Android, the Home App can be found in Play Store, and for Apple, the Home App can be found in the App Store.
Proceed to launch the Google Home App on your smartphone.
In the top left corner of the app's home screen, click the menu button (three-lined icon)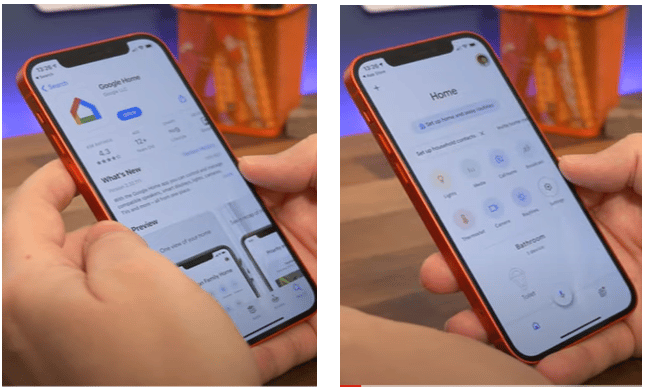 Ensure the Google account you are using is the same one being used by your Google Home speaker. This will come in handy when you are using voice controls on the Chromecast.
Next, click on more settings, then click on 'TVs and Speakers.' You should see a rundown of all your presently connected devices.
To add a new device, click on the plus icon that can be seen in the lower-right corner of your screen. If you've set up your Chromecast on the same Wi-Fi network, you should see it appear as a new device on the list of connected devices.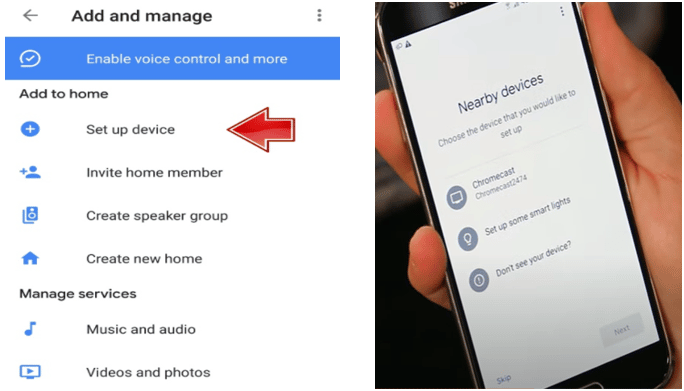 To fully include it on the Google Home app, click on the checkbox next to the device name, then click on 'Add.' Now your Chromecast is fully configured, and it can be controlled using the Google Home App.
How Can You Cast from Your Smartphone to A Chromecast Dongle?
First, ensure that your Android smartphone or iPhone is linked to the same Wi-Fi network as the Chromecast dongle.
Launch any Chromecast-supported app, such as YouTube or Google Chrome.
Click on the cast button. The cast icon looks like a Wi-Fi signal. Depending on the app you're using, the cast icon can either be on the top right or top left corner of your screen.
Select the Chromecast as the device you want to cast to, then click on the cast. If you have more than one Chromecast, you will see a list of Chromecast dongles. Once connected, the Chromecast icon will change color from white to blue.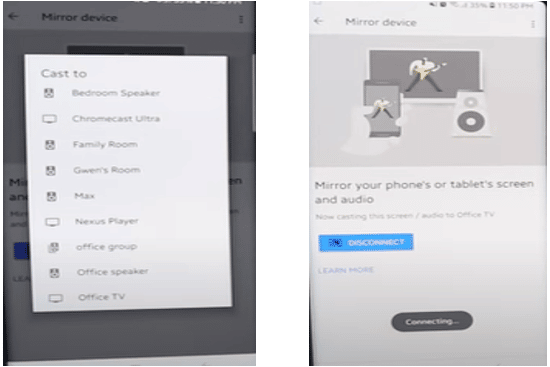 Extra Features Available for Chromecast On the Google Home App Include:
Once your Chromecast dongle is connected to the Google Home app, you can use Google Assistant voice commands to cast content from Hulu, Netflix, HBO Max, Spotify, Prime Video, and so much more.
You can use the Home App to prompt your Chromecast to pause, play, stop or skip content being played on your TV.
The Home App can also be used to switch a smart TV on and off.
You can tell Chromecast to 'Go forward 10 seconds' or 'Go back 10 seconds.'
You can play specific YouTube videos on Chromecast with the Home app.
Final Thought
All in all, the Google Home App and Chromecast synchronization is quite a marvel; it enables you to do certain things wirelessly that is unheard of. The seamless flow between the home app and the Chromecast dongle is because the same company, Google, makes both devices.
See Also
How to Play Apple Music on Google Home
How to connect Ring Doorbell to Google Home