How to Control LED Lights With Phone? – Getting Started
Learning how to control lighting with a phone is a good starting point for homeowners interested in smart home technologies. Proper lighting creates a welcoming atmosphere in any home.
From simple incandescent light bulbs to upgrading to cost-effective LED lights and switching to smart lighting that can be controlled by your smartphone, home lighting technology has advanced significantly over the years.
Smart lights are often used to kick start the transformation of a regular home into a smart one. One of the benefits of smart lights is that they can be controlled remotely via a mobile app. It allows you to alter lighting based on the number of people in the room, the time of day, and other parameters you choose.
Your smartphone will instruct your hub or WiFi network to signal the smart lights or smart gadgets, instructing them to switch on or off, dim, or change colors. That said, let's look at the steps of connecting LED lights to your phone and controlling them. We will focus on Philips Hue for this review because it's the most renowned smart LED light lineup.
The Setup Process
Switch on your Philips Hue lights after installing them: Insert your Philips Hue LEDs into light sockets in the same way you would any other light bulb.
Then install the Philips Hue Bluetooth app on your phone. The Philips Hue app is available on iOS App Store and the Google Play Store.
After that, launch the app and click on 'Get Started.'
Next, click on the 'Yes' button. If you click on 'No' when asked if your lights are Bluetooth-ready, you'll be prompted to set up a Philips Hue Bridge.
You'll need to create an account. You'll need to provide a name and email. In addition, you'll have to agree to the terms and conditions by clicking on the bottom slider.
Now choose whether or not you want to have a voice assistant. Only click on 'Yes' if you use Amazon Alexa or Google Assistant. Otherwise, click on 'Not right now.' You can always link your smart lights with a voice assistant later on.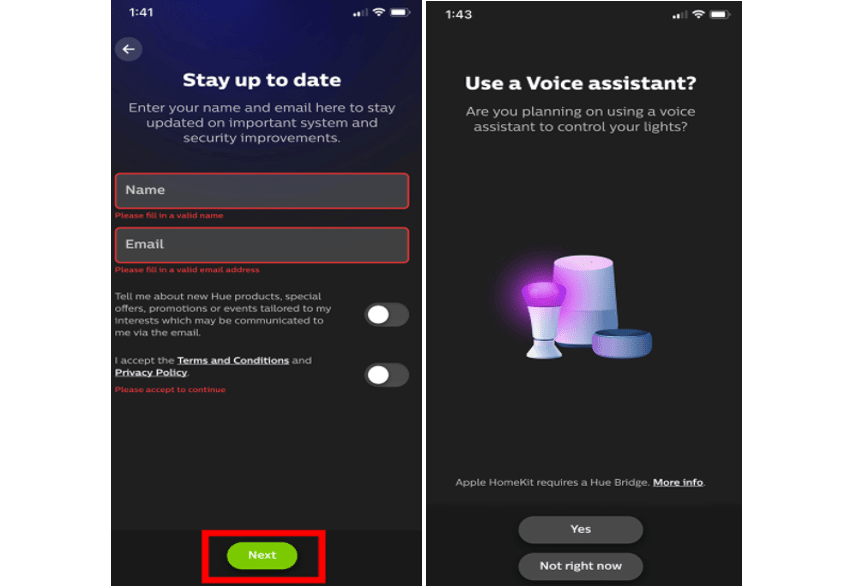 Next, switch on your lights and click on 'Add light.' The app will begin searching for your Hue bulbs right away. If you have a dimmer switch, ensure it's cranked up.
Then, click on 'Pair'. A pop-up prompt will appear, requesting you to grant the app access to your smartphone's Bluetooth.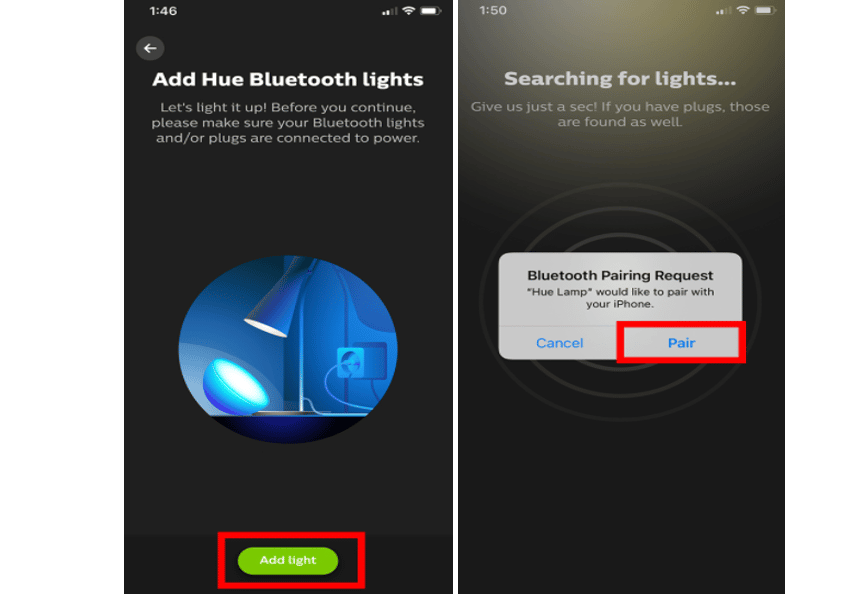 Next, click on 'Next' or 'Search for more.' To continue, click on 'Next' once your device has found one of your bulbs.
Click on Search for more if you're replacing more than one bulb. By clicking on the Hue bulb, you can see which bulb your device is connected to. This will make the bulb rapidly switch off and on. Click on 'Next' once you've connected all your bulbs.
Keep in mind If you're having trouble connecting to a bulb, try switching them off for 10 seconds. In addition, try bringing your smartphone closer to the smart lights.
Then click on 'Retry'. It is recommended you move your smartphone within three feet from the bulb to allow for a smooth connection process.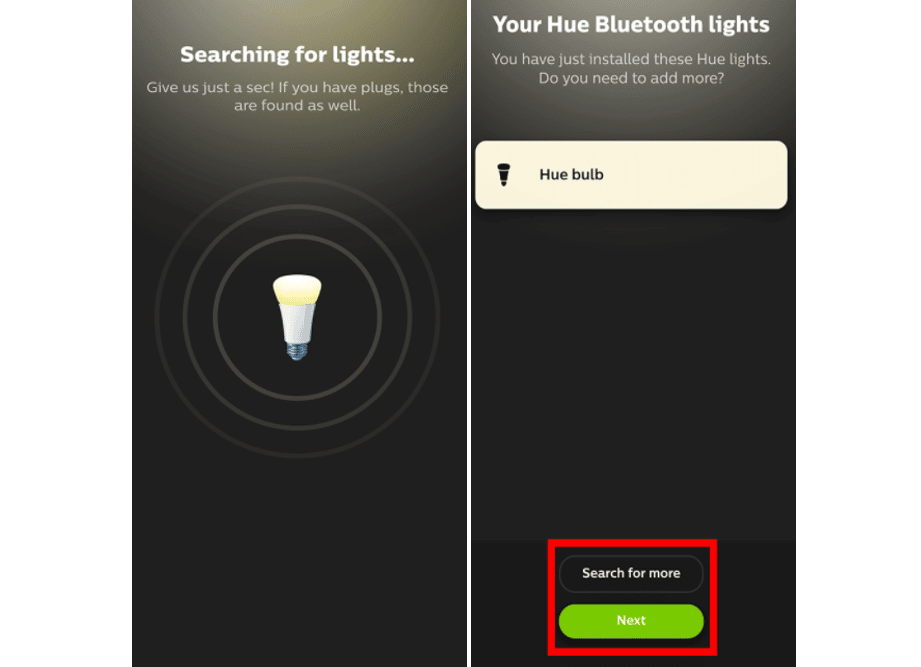 Next, choose which voice assistants you want to utilize. You only have two options: Amazon Alexa or Google. You can also click on 'Setting up a voice assistant later' if you don't have an assistant or wish to set up a voice assistant with your Philips lights later.
Assign names to your smart lights. To change a bulb's default name, click on the text box at the top of your screen. If will use a voice assistant, assign your smart lights names that your smart speaker can recognize.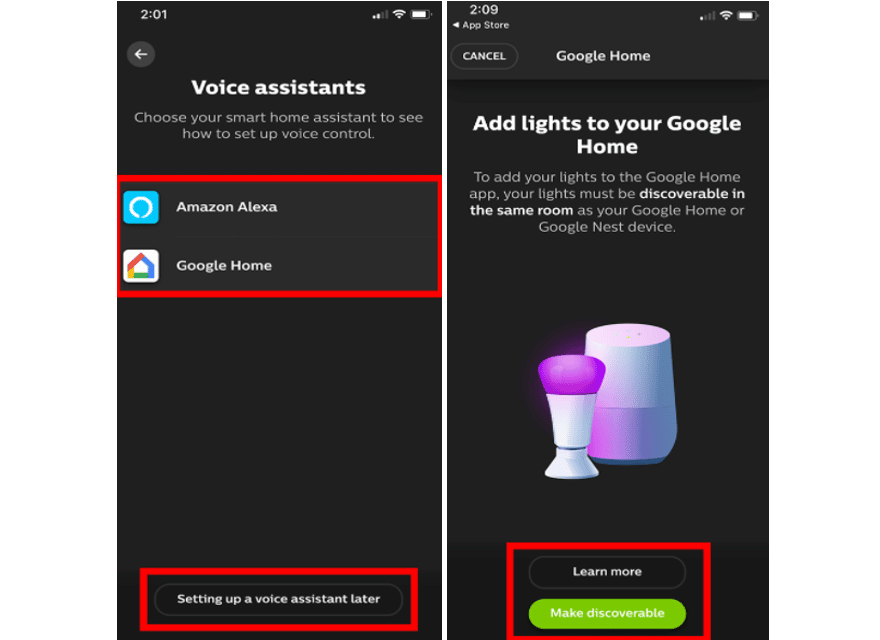 Click on 'Next' to complete the configuration. Now you can use your smartphone to operate your Philips Hue smart lights. Simply tap the 'Lights' tab in the bottom-left corner of the app to dim or change the color of your lights.
By pressing the Settings icon in the bottom-right corner of the app, you may modify the name of your bulbs. Then, select the bulb you want to rename under' Lights.'
Finally, click on any bulb's default name to enter a new one.
Note: There are two main smartphone operating systems Android and iOS. So if you can't install the smart app on your phone, maybe your OS version isn't compatible with the app. Check your phone OS version to see if you can install an app to control lights.
Final Thought
As you can see, the process of controlling smart LED lights with your smartphone is relatively easy. However, keep in mind that most of these smart LED lights have their own dedicated smartphone apps to control them, and this is what you need to download.