How to Connect Chromebook to TV? – Getting Started
How often have you come across some great video content on Netflix, Prime Video, or YouTube and wished you could watch it on a big screen? Fortunately, nowadays, it's quite easy to connect a device to a TV using a cable or cast the content wirelessly to the TV.
So, whether you want to present content to your colleagues in the office, watch a slide show of images with family or friends, or stream your favorite movies and TV shows, you can easily do this on your Chromebook. Although it's quite easy to cast content using various devices, this task becomes most accessible if you do it using a Chromebook.
Unlike other smart devices, you can project a Chromebook's display to a TV via HDMI or wirelessly. Likewise, there are no barriers as to what content you can cast to a TV from a Chromebook. Chrome OS makes projecting to TVs easier than ever before, from the desktop screen to your desired web page or any other application content.
If it's your first time connecting Chromebook to a TV, check out this detailed review. We will look at how to connect a Chromebook to a TV via HDMI or wirelessly. Regardless of which method you opt for, you can be certain the results will be impressive.
Which Ports Do You Have On Your Chromebook?
You'll have to check your Chrome OS device to find out which ports are on it. Chromebooks are built by several companies, and as such, they come in a variety of connectivity setups. For example, some have Micro USB ports, some Mini HDMI ports, and some USB Type-C ports.
Therefore study your Chromebook's port closely and carefully. Get to see the ports on both sides. Some brands label the ports using letters so you can easily recognize them.
For instance, you might see the name HDMI or USB inscribed next to a certain port. Other manufacturers will only use icons which are a lot more common. If you know what the different icons represent, then you're all set to go.
How Can You Connect a Chromebook to TV via HDMI?
If your Chrome OS laptop has an HDMI port, you can connect it to a TV using an HDMI cable. If your Chromebook has a USB-C port instead, you need a USB-C dongle with an HDMI port.
To connect Chromebook to TV via HDMI:
Insert one end of the HDMI cable into your Chrome PC. If you're using a dongle, plug it into the Chromebook and then plug in the HDMI cable to the dongle.
Insert the opposite end of the HDMI cable into the TV. The HDMI ports on the TV should be on the back, bottom, or sides of the display.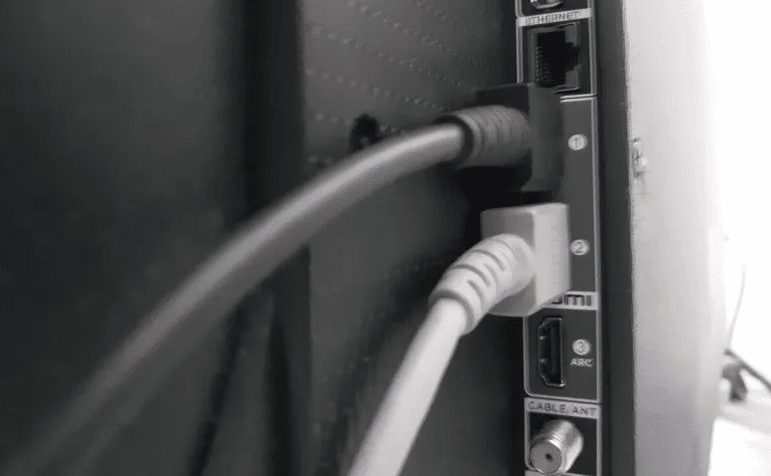 Next, boot up your Chrome PC.
Then turn on your TV and set it to the correct input channel such as HDMI 1 or 2 etc.
At this point, your Chromebook's main screen should now appear on the TV. To make the whole screen visible, you might need to adjust some settings.
Click on the clock in the bottom-right corner of the screen and select the 'Settings' icon.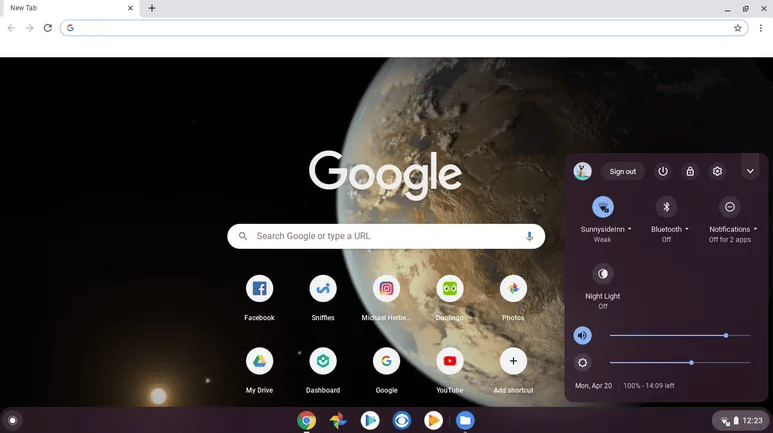 In the settings page, scroll down to the 'Device' section and choose 'Displays.'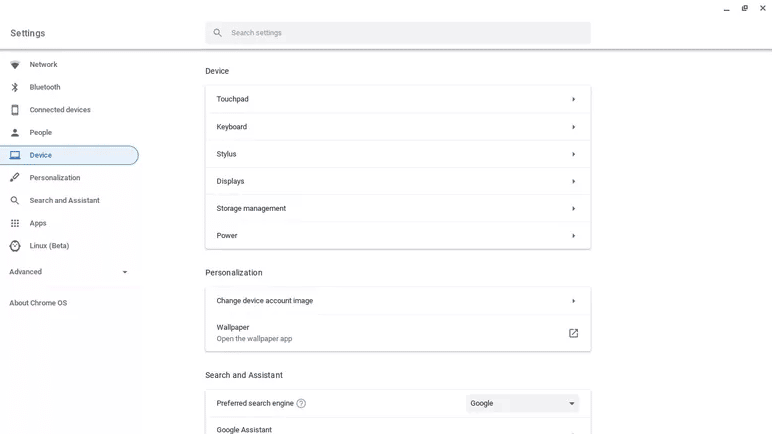 Next, check the box next to 'Mirror Internal Display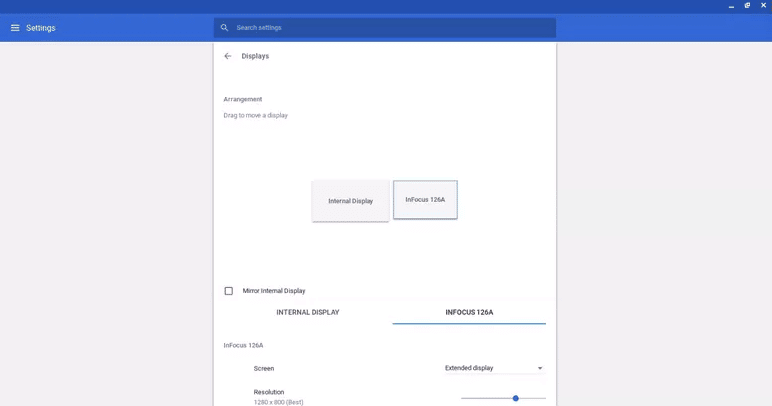 Now the whole screen of your Chromebook should appear on the TV. When you launch apps and surf the web as you usually do, the PC's actions will be reciprocated on the TV screen. This is a good thing because you can display photos you've stored on Google Driver or stream video content from platforms such as Netflix, Prime Video, and YouTube.
How Can You Connect a Chromebook to TV Wirelessly?
You can also connect your Chromebook to a TV wirelessly using Chromecast. Chrome OS PCs feature native support for Chromecast devices. Therefore after configuring Chromecast on your Smart TV, follow these steps to cast your Chromebook's screen:
Click on the clock in the bottom-right corner of the screen and then click on 'Cast.'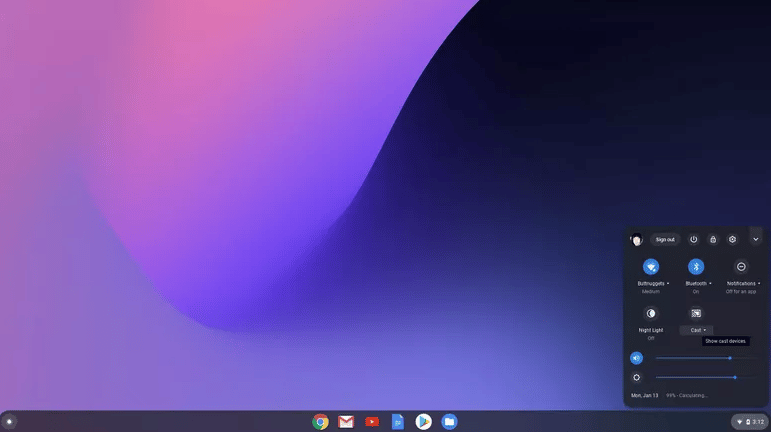 Next, select your Chromecast device.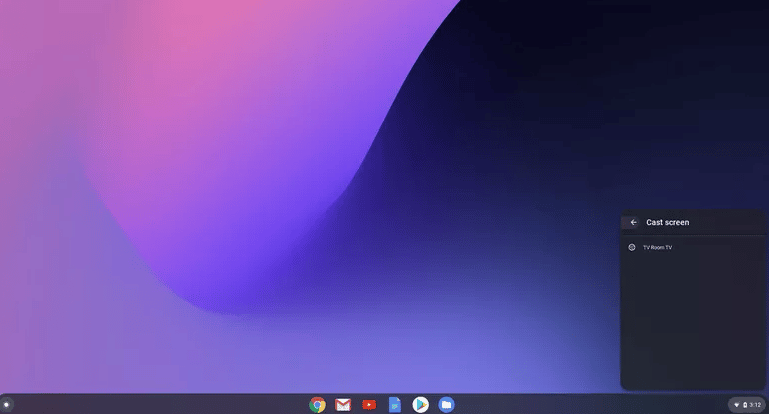 Select your desktop in the pop-up and then click on 'Share.'
Finally, to stop casting your Chromebook screen, click on the clock again and then click on 'Stop' in the window that shows up on top of the system tray menu. Some TVs have native Chromecast support, so you don't need the extra hardware.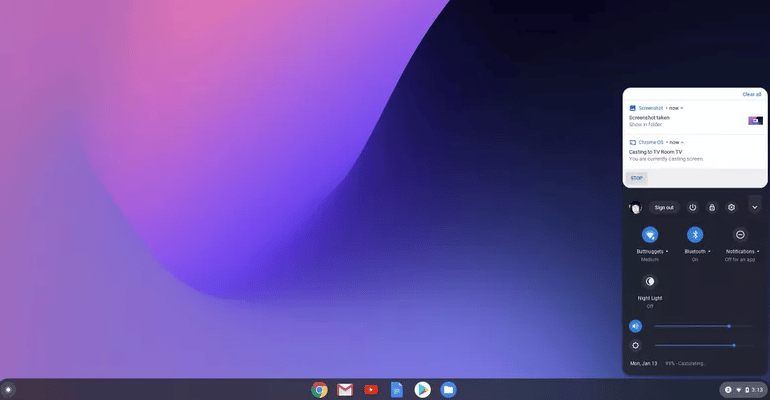 Tip: For specific smart TVs you don't need to purchase and setup an external Chromecast device. Why? Because they have built-in Chromecast. As a result, you can connect your Chromebook to such smart TVs directly.
Final Thought
All in all, this concludes our discussion on how to connect a Chromebook to a TV. Establishing a secure connection between your Chromebook and TV is relatively easy, but things can go wrong if you don't follow all the steps carefully. Therefore ensure that you have the correct equipment you need to stream content seamlessly from your Chromebook to TV.
How to Copy Paste on Chromebook
How to Screen Record on Chromebook