Best Gaming Headset for PS4
Communication always holds the key and multiplayer gaming is no exception. Luckily, you can now look up to a number of PS4 gaming headsets options available around which comes with some exquisite features like quality mics, comfortable ear-pads and impeccable audio. All of these high-end features certainly bring more life to your favorite PS4 games whilst giving you a competitive edge in the process. With that said, let us bring you 5 of the best gaming headset for PS4.
SteelSeries Arctis 7
Headset Type: Over-ear
Wireless: Yes
Noise cancellation option : No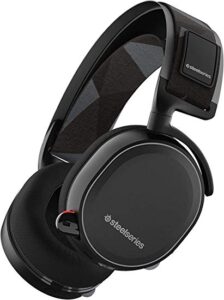 The all new SteelSeries Arctis 7 is the best one in the lot. The headphones are perfect for gaming, with an amazing sound and nearly impressive microphone, all packed in a versatile wireless design. The headset is quite comfortable for long gaming sessions and showcases a sleek design, largely inspired by ski- goggles. It also comes with a retractable mic, which allows you to use it for the outdoor purposes quite efficiently. Still, you may find it a bit bulky and inconvenient for the outdoor usage sometimes.
The Arctis 7 got a 24 hour battery life, amazing sound and a perfect wireless range. You won't witness any kind of latency due to their versatile USB transmitter dongle. Even though the headset is stable and comfortable, it may feel a bit tight on some heads with quite poor noise isolation. Still the Mic has an amazing noise handling feature and you might not hear your mates even whilst being in a noisy room. So, if you search is about finding a perfect wireless headphone with amazing build quality, sound and microphone, the new SteelSeries Arctis 7 is certainly the best deal to go with.
Astro A50 with PS4 base
Headset Type: Over-ear
Wireless: Yes
Noise cancellation option : No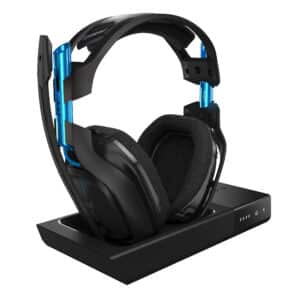 If you are looking for a multipurpose headset which can go equally good with your home theatre system along with the PS4, the Astro A50 with PS4 base is the perfect choice. The sound is pretty amazing, with a nice microphone and it also sports an exclusive docking station which makes it an ideal choice for most of the home theatre setups. The headset has an excellent bass along with an amazing mid and treble range. The sound profile works perfectly with not only PS4 games, but most of the TV shows, movies and music as well. Still the best part of Astro A50 is its PS4 compatible base that not only offers dock charging, but multiple inputs to go good with various home media setups.
The sound doesn't lag at all, with a 39m latency and comes along with a good wireless range along with a decent battery life of 13 hours, with some great power saving features. The headset also got soft breathable pads which often result in poor noise isolation. The power saving feature is quite aggressive and turns off the headphone after detecting no movement for 5 minutes. The headset is still laudable for its capability to serve both the gamers and the home media freaks that are looking for a multitasking wireless headphone.
Logitech G933 Artemis
Headset Type: Over-ear
Wireless: Yes
Noise cancellation option: No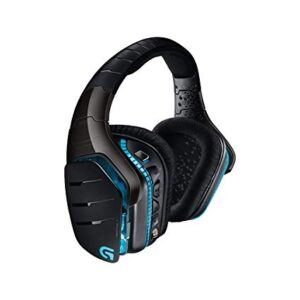 If you are someone who loves to explore the fine tuning and sound customizations option in your gaming headset, the Logitech G933 Artemis is just the wireless headphone you are looking for. These headphones, whilst sounding good, works along with an amazing companion app that allows you to change your gaming experience as per choice. The Headset comes with gamer-focused design works perfectly for long gaming sessions and can be used in the wireless version (via the included USB Dongle) or with wire ( via the included audio cable). The headphones come with a great bass and treble performance along with a good mid-range. The microphone, on the other hand, does a good job whilst filtering and handling noise. Logitech G933 Artemis goes great with its companion app, Logitech Gaming Software, which offers some impeccable features, like an equalizer, surround sound effects along with a customizable microphone with different sound volume levels.
Corsair HS60
Headset Type: Over-ear
Wireless: No
Noise cancellation option: No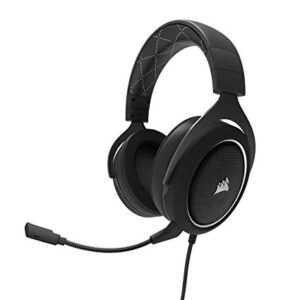 If you really want a PS4 headset which can provide you with great sounds and comfortable design, and that too without going high on budget, the new Corsair HS60 is simply the best choice. The headset is quite decent and easily gets plugged into the PS4 controller without any sound lag. The headphones are well designed and perfectly built, whilst offering some great value for money.
The Corsair HS60 comes with a great sound and perfectly suits to the purpose of all those gamers who loves to use their PS4 to listen to music or watch videos. The bass is quite deep and powerful with a clear treble even at a mid range. The HS60 also sports impeccable imaging which means that you can easily locate and hear your enemy attacks whilst playing your favorite games. The mic is quite decent with some ordinary recording quality but comes along with great noise handling feature. Still, the biggest downside of this headset is its inability to support the EQ mixing on the PS4 and its companion app is also confined to gaming headset for PC use only. The headset works quite well in quieter places only and you must avoid taking them to noisy outdoors.
HyperX Cloud stinger
Headset Type: Over-Ear
Wireless: No
Noise Cancellation feature: No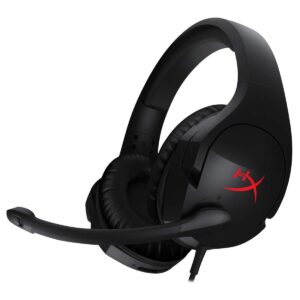 If your usage for the PS4 headsets is mostly limited for indoors, then the HyperX Cloud Stinger is a much viable option at a cheaper price than the rest. Although the headset isn't wireless, the sound experience within is quite fabulous, and that too at a competitive price. The headset also comes with a boom mic that reproduces your voice with great perfection. It's loaded with some great features like deep and powerful bass, low latency and comfortable design which enable to enjoy your gaming sessions for hours, without any discomfort.
As it's a wireless headset, you don't really need to worry about the battery aspect and can simply enjoy your gaming session with all the perfection and joy. The extension cord is long enough to provide you with a flexibility to choose your desired spot whilst playing the game.